Imaging appearance of the involved mesenteric node in patient with systemic amyloidosis: A case report
Keywords:
Amyloidosis, Mesenteric, Lymph node, Imaging findings, Clinical presentation
Abstract
Amyloidosis is a rare disease characterised by abnormal amyloid protein deposition within the affected tissue. About 37% of the patients were presented with systemic amyloidosis, of which hilar, mediastinal, and para-aortic lymph nodes were involved. Deposition of amyloid protein in the mesenteric lymph node is rarely documented, but when reported, it is seen in isolated or secondary amyloidosis. Despite an indistinguishable imaging appearance of the amyloid- deposit mesenteric node from malignancy, infection, and an inflammation process, the radiologists should be aware of variable imaging findings to be suspicious of amyloidosis. We reported a rare case of systemic amyloidosis with mesenteric node involvement, manifested as node enlargement.
Downloads
Download data is not yet available.
References
Ozcan HN, Haliloglu M, Sokmensuer C, Akata D, Ozmen M, Karcaaltincaba M. Imaging for abdominal involvement in amyloidosis. Diagn Interv Radiol 2017;23:282-5. doi: 10.5152/dir.2017.16484.
Scott PP, Scott WW Jr, Siegelman SS. Amyloidosis: an overview. Semin Roentgenol 1986;21:103-12. doi: 10.1016/0037-198x(86)90027-1.
Georgiades CS, Neyman EG, Barish MA, Fishman EK. Amyloidosis: review and CT manifestations. Radiographics 2004;24:405-16. doi: 10.1148/rg.242035114.
Vanhoenacker FM, Vanwambeke K, Jacomen G. Amyloidosis: an unusual cause of mesenteric, omental and lymph node calcifications. JBR-BTR 2014;97:283-6. doi: 10.5334/jbr-btr.1329.
Mohan V, Kemp JA, Lewine HE, Rabin M, Goldstein ML, Farraye FA. Diffuse mesenteric amyloidosis. Dig Dis Sci 1997;42:1079–82. doi: 10.1023/a:1018809724577.
Glynn TP Jr, Kreipke DL, Irons JM. Amyloidosis: diffuse involvement of the retroperitoneum.
Radiology 1989;170(3 Pt1):726. doi: 10.1148/radiology.170.3.2916026.
Bernabei L, Waxman A, Caponetti G, Fajgenbaum DC, Weiss BM. AA amyloidosis associated with Castleman disease. Medicine(Baltimore) 2020;99: e18978. doi: 10.1097/MD.0000000000018978.
Hiller N, Fisher D, Shmesh O, Gottschalk-Sabag S, Dolberg M. Primary amyloidosis
presenting as isolated mediastinal mass: diagnosis by fine needle biopsy. Thorax 1995;
:908–9. doi: 10.1136/thx.50.8.908.
Bhavsar T, Vincent G, Durra H, Khurana JS, Huang Y. Primary amyloidosis involving mesenteric lymph nodes: diagnosis by fine-needle aspiration cytology. Acta Cytol 2011;55:296-301. doi: 10.1159/000324181.
Sheth S, Horton KM, Garland MR, Fishman EK. Mesenteric neoplasms: CT appearances of primary and secondary tumors and differential diagnosis. Radiographics 2003;23:457-73. doi: 10.1148/rg.232025081.
Howie AG, Brewer DB, Howell D, Jones AP. Physical basis of colors seen in Congo red-stained amyloid in polarized light. Lab Invest 2008;88:232-42. doi: 10.1038/labinvest.3700714.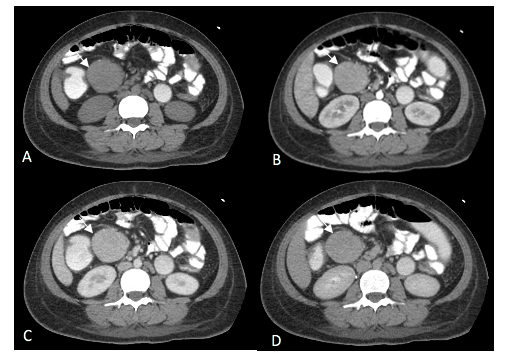 Downloads
How to Cite
1.
Cheewadhanaraks S, Suriyamonthon T, Noisri P, Puttawibul P, Pattarapuntakul T, Wisedopas N, Arunsawat P, Khanungwanitkul K. Imaging appearance of the involved mesenteric node in patient with systemic amyloidosis: A case report . ASEAN J Radiol [Internet]. 2020Dec.31 [cited 2022Aug.10];21(3):25-33. Available from: https://asean-journal-radiology.org/index.php/ajr/article/view/98
License
Copyright (c) 2020 The ASEAN Journal of Radiology
This work is licensed under a Creative Commons Attribution-NonCommercial-NoDerivatives 4.0 International License.
Disclosure Forms and Copyright Agreements
All authors listed on the manuscript must complete both the electronic copyright agreement. (in the case of acceptance)