Hepatic hemangioma in cirrhosis: Two case reports
Keywords:
Hepatic hemangioma, Cirrhosis, Progression.
Abstract
Hepatic hemangioma is the most common primary liver tumor with a reported prevalence of 0.4-20%. However, the prevalence of hepatic hemangioma in cirrhosis is considered to be very low ranging from 1.2-1.7%. Also, the morphology and hemodynamics of the hemangioma are different from those found in non-cirrhotic liver. We report two cases of hepatic hemangioma in cirrhosis and their natural progression on follow-up.
Downloads
Download data is not yet available.
References
European Association for the Study of the Liver (EASL). EASL Clinical Practice Guidelines on the management of benign liver tumours. J Hepatol 2016; 65: 386–98.
Rungsinaporn K, Phaisakamas T. Frequency of abnormalities detected by upper abdominal ultrasound. J Med Assoc Thai 2008; 91: 1072–75.
Bahirwani R, Reddy KR. Review article: the evaluation of solitary liver masses. Aliment Pharmacol Ther 2008; 28: 953–65.
Dodd GD 3rd, Baron RL, Oliver JH 3rd, Federle MP. Spectrum of imaging findings of the liver in end-stage cirrhosis: Part II, focal abnormalities. AJR Am J Roentgenol 1999;173:1185-92.
Karhunen PJ. Benign hepatic tumours and tumour like conditions in men. J Clin Pathol 1986; 39: 183–88.
Gandolfi L, Leo P, Solmi L, Vitelli E, Verros G, Colecchia A. Natural history of hepatic haemangiomas: clinical and ultrasound study. Gut 1991; 32: 677–80.
Bajenaru N, Balaban V, S?vulescu F, Campeanu I, Patrascu T. Hepatic hemangioma -review-. J Med Life 2015; 8 Spec Issue: 4-11.
Flucke U, Vogels RJ, de Saint Aubain Somerhausen N, Creytens DH, Riedl RG, van Gorp JM, et al. Epithelioid Hemangioendothelioma: clinicopathologic, immunhistochemical, and molecular genetic analysis of 39 cases. Diagn Pathol 2014 ; 9: 131.
Byass P. The global burden of liver disease: a challenge for methods and for public health. BMC Med 2014; 12: 159.
Wong MCS, Huang J. The growing burden of liver cirrhosis: implications for preventive measures. Hepatol Int 2018; 12: 201-3.
Galvão BVT, Torres LR, Cardia PP, Nunes TF, Salvadori PS, D'lppolito G. Prevalence of simple liver cysts and hemangiomas in cirrhotic and noncirrhotic patients submitted to magnetic resonance imaging. Radiol Bras 2013; 46: 203-8.
Bartolozzi C, Cioni D, Donati F, Lencioni R. Focal liver lesions: MR imaging-pathologic correlation. Eur Radiol 2001; 11: 1374–388.
Yamashita Y, Ogata I, Urata J, Takahashi M. Cavernous hemangioma of the liver: pathologic correlation with dynamic CT findings. Radiology 1997; 203: 121–5.
Mastropasqua M, Kanematsu M, Leonardou P, Braga L, Woosley JT, Semelka RC. Cavernous hemangiomas in patients with chronic liver disease: MR imaging findings. Magn Reson Imaging 2004; 22: 15–8.
Yu JS, Kim KW, Park MS, Yoon SW. Hepatic cavernous hemangioma in cirrhotic liver: imaging findings. Korean J Radiol 2000; 1: 185–90.
Brancatelli G, Federle MP, Blachar A, Grazioli L. Hemangioma in the Cirrhotic Liver: Diagnosis and Natural History. Radiology 2001; 219: 69–74.
Soyer P. Segmental anatomy of the liver: utility of a nomenclature accepted worldwide. AJR Am J Roentgenol 1993; 161: 572–3. 18. Bosetti C, Turati F, La Vecchia C. Hepatocellular carcinoma epidemiology. Best Pract Res Clin Gastroenterol 2014; 28: 753–70.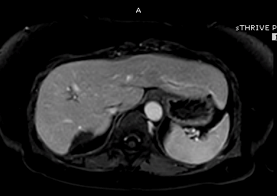 Downloads
How to Cite
1.
Dorji KS, Cheewadhanaraks S. Hepatic hemangioma in cirrhosis: Two case reports. ASEAN J Radiol [Internet]. 2020Mar.16 [cited 2021Sep.21];21(1):21-33. Available from: https://asean-journal-radiology.org/index.php/ajr/article/view/66
License
Copyright (c) 2020 The ASEAN Journal of Radiology
This work is licensed under a Creative Commons Attribution-NonCommercial-NoDerivatives 4.0 International License.
Disclosure Forms and Copyright Agreements
All authors listed on the manuscript must complete both the electronic copyright agreement. (in the case of acceptance)