Delayed pneumomediastinum: A rare subacute complication of paraquat poisoning
Keywords:
Paraquat, Poisoning, Complication, Pneumomediastinum, Pneumothorax
Abstract
Paraquat (PQ) is a non-selective widely used weedicide. Paraquat poisoning has a high mortality rate with no available antidote as of now. It is rare in Bhutan, but mostly discovered in the southern part of the country.Patients usually present with multi-organ failures such as respiratory, liver, and renal failures. This is a case report of a 24-year-old female referred with a history of paraquat ingestion. Initially, she complained of epigastric and retrosternal chestpain with excoriation of the oral mucosa. She later developed acute kidney injury and respiratory distress. Chest CT revealed pneumomediastinum, massive bilateral pneumothoraces, and subcutaneous emphysema. Although there have been few reported cases of pneumomediastinum with or without pneumothorax and subcutaneous emphysema, most of them have an acute presentation (less than 1 week).
Downloads
Download data is not yet available.
References
Gunnell D, Eddleston M, Phillips MR, Konradsen F. The global distribution of fatal pesticide self-poisoning: systematic review. BMC Public Health 2007;7:357.
doi: 10.1186/1471-2458-7-357.
National Plant Protection Centre. Department of Agriculture, Ministry of Agriculture & Forests [Internet]. Thimphu: NPPC; c2021 [cited 2021 Sept 1]. Herbicide 2016; [about 4 screens]. Available from: http://www.nppc.gov.bt/herbicide
Vale JA, Meredith TJ, Buckley BM. Paraquat poisoning: clinical features and immediate general management. Hum Toxicol 1987;6:41–7. doi: 10.1177/096032718700600107.
Chen KW, Wu MH, Huang JJ, Yu CY. Bilateral spontaneous pneumothoraces, pneumopericardium, pneumomediastinum, and subcutaneous emphysema: a rare presentation of paraquat intoxication. Ann Emerg Med 1994;23:1132–4. doi: 10.1016/s0196-0644(94)70116-4.
Delirrad M, Majidi M, Boushehri B. Clinical features and prognosis of paraquat poisoning: a review of 41 cases. Int J Clin Exp Med 2015;8:8122–8.
Im JG, Lee KS, Han MC, Kim SJ, Kim IO. Paraquat poisoning: findings on chest radiography and CT in 42 patients. AJR Am J Roentgenol 1991 ;157:697–701. doi: 10.2214/ajr.157.4.1892020.
Rose MS, Lock EA, Smith LL, Wyatt I. Paraquat accumulation: Tissue and species specificity. Biochemical Pharmacology 1976;25:419–23. doi: 10.1016/0006-2952(76)90344-0.
Daisley H, Barton EN. Spontaneous pneumothorax in acute paraquat toxicity. West Indian Med J 1990;39:180–5.
Maunder RJ, Pierson DJ, Hudson LD. Subcutaneous and mediastinal emphysema. Pathophysiology, diagnosis, and management. Arch Intern Med 1984;144: 1447–53.
Ackrill P, Hasleton PS, Ralston AJ. Oesophageal perforation due to paraquat. Br Med J 1978;1:1252–3. doi: 10.1136/bmj.1.6122.1252.
Zhang H, Liu P, Qiao P, Zhou J, Zhao Y, Xing X, et al. CT imaging as a prognostic indicator for patients with pulmonary injury from acute paraquat poisoning. Br J Radiol 2013;86:20130035. doi: 10.1259/bjr.20130035.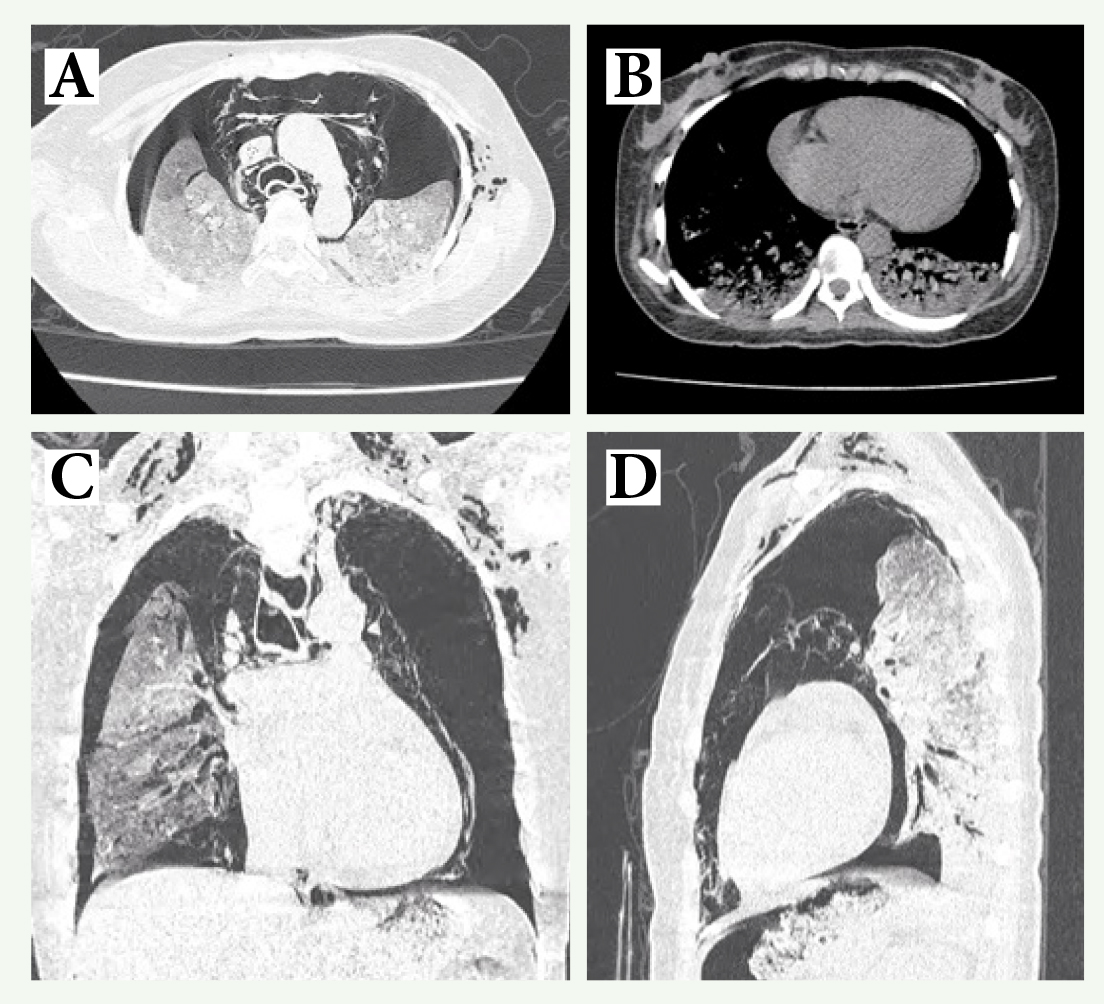 Downloads
How to Cite
1.
Gyeltshen T, Dorji KS, Nidup. Delayed pneumomediastinum: A rare subacute complication of paraquat poisoning. ASEAN J Radiol [Internet]. 2021Dec.31 [cited 2023Oct.4];22(3):32-40. Available from: https://asean-journal-radiology.org/index.php/ajr/article/view/134
License
Copyright (c) 2021 The ASEAN Journal of Radiology
This work is licensed under a Creative Commons Attribution-NonCommercial-NoDerivatives 4.0 International License.
Disclosure Forms and Copyright Agreements
All authors listed on the manuscript must complete both the electronic copyright agreement. (in the case of acceptance)