Distal common bile duct adenoma
Keywords:
Common bile duct adenoma, Benign tumor, Bile duct, Imaging findings, Clinical presentation
Downloads
Download data is not yet available.
References
Albores-Saavedra J, Scoazec JC, Wittekind C, Sripa B, Menck HR, Soehendra N, et al. Carcinoma of the gallbladder and extrahepatic bile ducts. In: Hamilton SR, Aaltonen LA,editors. World Health Organization classification of tumours: pathology and genetics of tumours of the digestive system. Lyon, France: IARC Press; 2000. p. 204-14.
Xu HX, Chen LD. Villous adenoma of extrahepatic bile duct: contrast-enhanced sonography findings. J Clin Ultrasound 2008;36:39-41. https://doi.org/10.1002/jcu.20361.
Loh KP, Nautsch D, Mueller J, Desilets D, Mehendiratta V. Adenomas involving the extrahepatic biliary tree are rare but have a aggressive clinical course. Endosc Int Open 2016;4: E112-7. https://doi.org/10.1055/s-0041-107897.
Aparajita R, Gomez D, Verbeke CS, Menon KV. Papillary adenoma of the distal common bile duct associated with a synchronous carcinoma of the peri-ampullary duodenum JOP 2008;9:212-5.
Pracchayakul V, Aswakul P, Kachintorn U. Incidental removal of distal common bile duct adenoma after plastic stent placement. Endoscopy 2012;44 Suppl 2 UCTN:E11-2. https://doi.org/10.1055/s-0031-1291497.
Ariche A, Shelef I, Hilzenrat N, Dreznik Z. Villous adenoma of the common bile duct transforming into a cholangiocarcinoma. Isr Med Assoc J 2002;4:1149-50.
Bahuth JJ, Winkley JH. Benign tumor of the common bile duct. Calif Med 1966;307-9.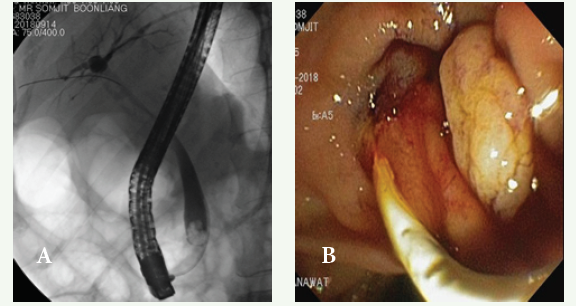 Downloads
How to Cite
1.
Khanungwanitkul K, Pattarapuntakul T, Wisedopas N. Distal common bile duct adenoma. ASEAN J Radiol [Internet]. 2020Aug.30 [cited 2021Sep.21];21(2):82-9. Available from: https://asean-journal-radiology.org/index.php/ajr/article/view/91
Section
Clinico-Radiologic-Pathologic Correlation
License
Copyright (c) 2020 The ASEAN Journal of Radiology
This work is licensed under a Creative Commons Attribution-NonCommercial-NoDerivatives 4.0 International License.
Disclosure Forms and Copyright Agreements
All authors listed on the manuscript must complete both the electronic copyright agreement. (in the case of acceptance)