Kartageners Syndrome: A Case Report in the Samutsakhon Hospital
Keywords:
Kartageners syndrome, primary ciliary dyskinesia, situs inversus
Abstract
Kartageners syndrome is an autosomal recessive disorder.1 It is characterized by the triad of situs inversus, bronchiectasis and sinusitis. Basic problem is defective movement of the cilia.3 Recognition in this condition keeps prevention for unnecessary investigation. We have presented a case of Kartageners syndrome in the Samutsakhon hospital.
Downloads
Download data is not yet available.
References
Kartagener M, Horlancher A, Situs vuscerum inversus and polyposisnais in enieum Falle familliaerer Brouchiectasin . Beitr Klin Tub 1936;87:331-3.

Bavaliya M, Sadatia V, Vekariya R , Jani D. Kartagenerûs syndrome. A Rare Case. NJIRM 2012;3(4):139-41.

Mahsud I, Din S. Kartagener ùs syndrome. Glomal Journal of Medical Science 2006;4(2):79-81.

Dabni AS, Chaudihri SR, Thorat PB, Pandya HB, Shah MC, Meswani UN, Vaghela PR. Kartagenerûs syndrome: A Triad of Bronchiectasis, Situs inversus and Chronic Sinusitis . JIACM 2005;6(3):241-3.

Masumi Akita. Primary Ciliary Dyskinesia/Kartagener Syndrome- Clinical and Genetic Aspects. Approaches to Bronchitis, 2011. (cited 2014 Jan 20) InTech, Available from:http://www.intechopen.com/books/approaches-tobronchitis/primary-ciliary-dyskinesia-kartagener syndromeclinical-and- genetic- aspect.

Casonova MS, Tuji FM, Yoo HJ, Haiter-Neto F. Kartagener ûs syndrome. Dentmaxillofac Radiology 2006;35(5): 386-9.

McManus IC, Mitchison HM, Chung EM, Stubbing GF, Martin N. Primary ciliary dyskinesia (Siewertûs / Kartagenerûs syndrome): BMC pulmonary medicine 2003;3:4.

Serapinas D, Staikuniene J, Barkauskiene D, Jackute J, Sakalauskas R. An unusal regression of the symptoms of Kartagenerûs syndrome. Arch Bronconeumol 2013;49(1): 28-30.

Teknos TN, Metson R, Chasse T, Belecia G, Dickersin GR. New development in the diagnosis of Kartagenerûs syndrome. Otolaryngol Head Neck Surg 1977;116(1): 68-74.

Fliegauf M, Benzing T, Omran H. When cilia go bad: cilia defects and ciliopathies. Nat Rev Mol cell Bio 2007; 8(11):880-91.

Homma S, Kawabata M, Kishi K, T suboi E, Narui K, Saiki S etal. Bronchiolitis in Kartagener ùs syndrome. Eur Respir J 1999:14:1332-9.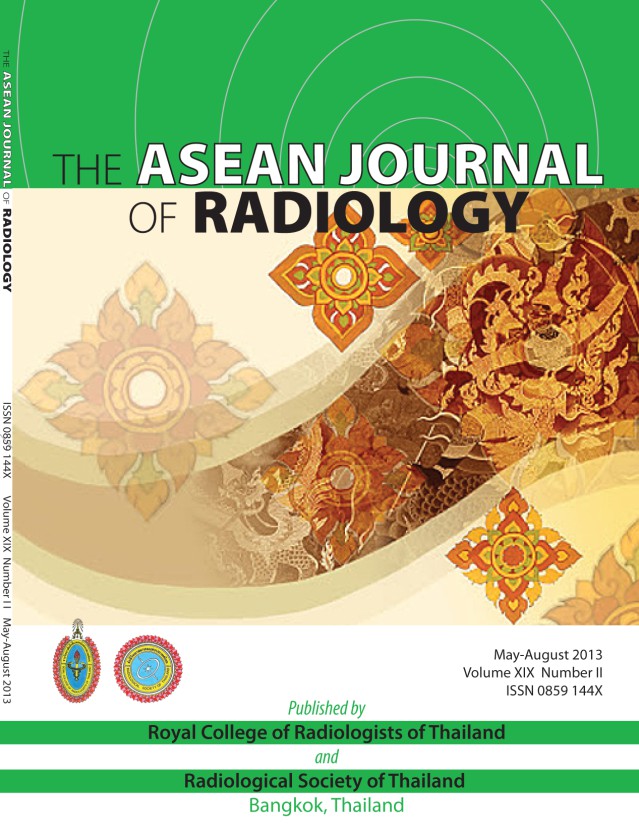 Downloads
How to Cite
1.
Girapongsa L, Puangpetch T, Autravisitkul O, Deesuwun P. Kartageners Syndrome: A Case Report in the Samutsakhon Hospital. ASEAN J Radiol [Internet]. 2019Mar.11 [cited 2021Sep.21];19(2):164-70. Available from: https://asean-journal-radiology.org/index.php/ajr/article/view/35
License
Disclosure Forms and Copyright Agreements
All authors listed on the manuscript must complete both the electronic copyright agreement. (in the case of acceptance)