THE PREOPERATIVE DIAGNOSIS OF PRIMARY ALDOSTERONISM BY THIN-SECTION COMPUTED TOMOGRAPHY
Abstract
Primary aldosteronism or Conn's syndrome is characterized by hypertension and hypokalemia resulting from elevated aldosterone. Up to 80% of cases are due to adrenocortical adenoma and the remaining 20% of cases are due to bilateral adrenal hyperplasia. Fewer than 1% of cases are due to carcinoma. The radiologic distinction between adenoma and hyperplasia is important because the treatment for adenoma is adrenalectomy, whereas medical therapy is indicated in hyperplasia. Several techniques have been used to make this distinction including: adrenal venous sampling, adrenal venography, scintigraphy, CT and MR imaging. Adrenal venous sampling and venography are invasive procedures even when done by the most experienced angiographer. Scintigraphy and MR imaging are not widely available. Many studies have advocated computed tomography in the investigation of patients with primary aldosteronism. We present 5 cases of primary aldosteronism due to functioning adrenocortical adenomas correctly diagnosed by thin- slice CT. All adenomas were less than 2 cm. with homogeneous low density.
We propose that CT should be the investigation of choice for patients with clinically suspected primary aldosteronism.
Downloads
Download data is not yet available.
References
Dunnick NR, Doppman JL, Gill JR, et al. Localization of functional adrenal tumors by computed tomography and venous sampling. Radiology 1982; 142: 429-33.
Geisinger Ma, Zelch MG, Bravo EL, et al. Primary hyperaldosteronism: Comparison of CT, adrenal venography, and venous sampling. AJR 1983; 141: 299-302.
Huebner KM, Treugut H. Adrenal cortex dysfunction: CT findings. Radiology 1984; 150:
-9.
Conn JW. Primary aldosteronism, a new clinical syndrome. J Lab Clin Med 1955; 45: 3: 17.
Glazer GM, Francis IR, Ouint LE. Imaging of the adrenal glands. Invest Radiol 1988; 23: 3-11.
Ikada DM, Fzancis IR, glazr GM, et al. The detection of adrenal tumors and hyperplasia in patients with primary aldosteronism: Comparison of scintigraphy, CT and MR imaging. AJR 1989; 153: 301-6.
Dunnick NR. Adrenal imaging: Current status. AJR 1990; 154: 927-36.
Francis IR, Gross MD, Shapiro B, et al. Integrated imaging of adrenal disease. Radiology 1992; 184: 1-13.
Doppman JL, Gill JR, Mill DL, et al. Distinction. between hyperaldosteronism due to bilateral hyperplasia and unilateral aldosteronoma: Reliability of CT. Radiology 1992; 184: 677-82.
Dunnick NR, Leight GS, Roubidoux MA, et al. CT in the diagnosis of primary aldosteronism: Sensitivity in 29 patients. AJR 1993; 160: 321-4.
Remer EM, Weinfeld RM, Glazer Gm, et al. Hyperfunctioning and nonhyperfunctioning benign adrenal cortical lesions: Characterization and comparison with MR imaging. Radiology 1989; 171: 681-5.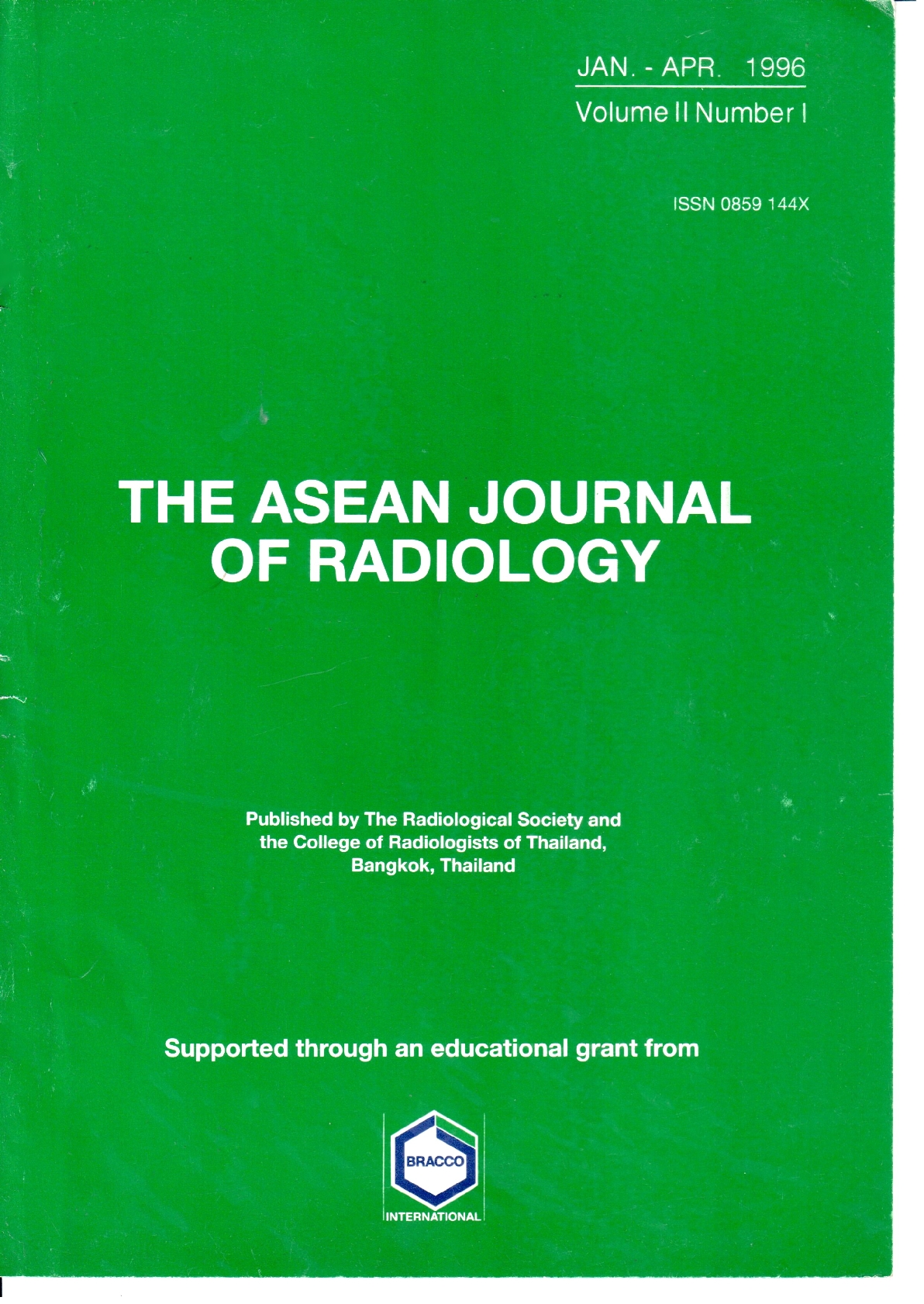 Downloads
How to Cite
1.
MUTTARAK M, DEEWIJIT S. THE PREOPERATIVE DIAGNOSIS OF PRIMARY ALDOSTERONISM BY THIN-SECTION COMPUTED TOMOGRAPHY. ASEAN J Radiol [Internet]. 2023Mar.31 [cited 2023Oct.5];2(1):51-3. Available from: https://asean-journal-radiology.org/index.php/ajr/article/view/291
License
Copyright (c) 2023 The ASEAN Journal of Radiology
This work is licensed under a Creative Commons Attribution-NonCommercial-NoDerivatives 4.0 International License.
Disclosure Forms and Copyright Agreements
All authors listed on the manuscript must complete both the electronic copyright agreement. (in the case of acceptance)