The Accuracy of Multidetector Row CT Angiography in the Evaluation of Living Kidney Donors
Seksan Chitwiset

Department of Radiology, Rajavithi Hospital, College of Medicine, Rangsit University

Vorapot Choonhaklai

Division of Urology, Department of Surgery, Rajavithi Hospital, College of Medicine, Rangsit University
Keywords:
transplantation, Living donors, Renal artery, Renal veins, MDCT
Abstract
Purpose: To assess the value of MDCT in evaluation of the anatomy of living kidney donors and in revealing the prevalence of renal vascular variations.
Materials and Methods: This retrospective study was approved by the Ethics committee of Rajavithi hospital(NO.172/2555). The accuracy of the images of vessel structures obtained by using 64-row multidetector computed tomography (MDCT) angiography in comparison with the actual vessel structures observed during surgery was analyzed retrospectively. We analyzed 20 patients who had undergone donor nephrectomy from 2008 to 2012. Preoperative MDCT angiography was performed, and the surgeons themselves subsequently recorded the operative findings.
Results: Nephrectomy was performed on the left side in all 20 patients. The accuracy levels of MDCT for the artery and the vein were 90% and 95% respectively.
Conclusions: MDCT angiography is a good investigative technique for the preoperative evaluation of the anatomy of vessels.
Downloads
Download data is not yet available.
References
Poli F, Scalamogna, CariloM, Porta E, Sirchia G. An algorithm for adaver kidney allocation base on a multivariate kidney graft survival and function. Transpl Int 2000; 13(supple 1):S259-62

Goel C, Modlin Cs, Mottoo AM, Derweesh IH, Flechner SM, Streem S, et al. Fate of donor kidney:laparoscopic versus open technique. J Urol 2004;172(6 pt 1):2326-30.

Annual Report of the U.S Scientific Registry of Transplant Recipients and the Organ Procurement and Trasplantation Network-Transplant Data:1988-1994. UNOS, Richmond,VA and the Division of Transplantation, Bureau of Health Resources and Services Administration,U.S. Department of Health and Human Services, Rockville, MD, 1995

Giessing M. Laparoscopic Living-donor nephrectomy. Nephrol Dial Transplant 2004;19(supple4):iv36-40.

Rydberg J, Kopecky KK, Tann M, Persohn SA, Leapman SB, Filo RS, et al. Evaluation of preoperative of prospective living renal donor for laparoscopic nephrectomy with multisection CT:the marriage of minimally invasive imaging with minimal invasive surgery. Radiographics 2001;21 Spec No:S223-6.

Derauf B, Goldberg ME. Angiographic assessment of potential renal transplant donors. Radiol Clin North Am 1987;25:261-5.

Shaffer D, Sahyoun AI, Madras PN, Monaco AP. Two hundred and one consecutive living-donor nephrectomies. Arch Surg 1998;133:426-31.

Cochran ST, Krasny RM, Danovitch GM, Rajfer J, Barbaric ZM, Wilkinson A, et al. Helical CT angiography for examination of living renal donors. AJR Am J Roentgenol 1997;168:1569-73.

Kawamoto S, Montgomery RA, Lalwer LP, Horton KM, Fishman EK. Multidetector CT angiography for preoperative evaluation of living laparoscopic kidney donors. AJR Am J Roentgenol 2003;180:1633-8.

Platt JF, Ellis JH, Korobkin M, Reie K. Helical CT evaluation of potential kidney donors:finding in 154 Subjects. AJR 1997;169:1325-30

Raman SS, Pojchmarnwiputh S, Muangsomboon K, Schulam PG, Gritsch HA, Lu DS. Utility of 16-MDCT angiography for comprehensive reoperative evaluation of laparoscopic renal donor. AJR 2006;186:1630-8.

Cecka JK, The OPTN/UNOS renal transplant registry, Clin Transpl 2005;1-16.

Ratner LE,Ciseck IJ, Moore RG, Cigarroa FG, Kaufman HS,Kavoussi LR. Laparoscopic live donor nephrectomy. Transplantation 1995;60:1047-9.

Rubin GD, Alfrey EJ, Dake MD, Semba CP, Sommer FG, Kuo PC, et al. Assessment of living donors with spiral CT. Radiology 1995;195:457-62.

Satyapal KS, Haffejee AA, Singh B, Ramasaroop L, Robbs JV, Kalideen JM. Additional renal arteries: incidence or morphometry, Surg Radiol Anat 2001;23:33-8.

Del Pizzo JJ, Sklar GN, You-Cheong JW, Levin B, Krebs T, Jacobs SC. Helical computerized tomography arteriography for evaluation of live related donor undergoing laparoscopic nephrectomy. J Urol 1999;162:31-4.

Burgos FJ, Pascual J, Mareen R, Garcia-Navas R, Gomez V,Ortuno J. The role of imaging techniques in renal transplantation. World J Urol 2004;22(5):399-404.

Leim YS, Kock MC, Ijzermans JN, Weimar W, Visser K, Hunink MG. Living renal donors:optimizing the imaging strategy-decision and cost-effectiveness analysis. Radiology 2003;180(6):53-62

Rydberg J, Laiang Y,Teague SD. Fundamentals of multichannel CT. Radiol Clin North Am 2003;41:465-74.

Holden A, Smith A, Dukes P, Pilmore H, Yasutomi M. Assessment of 100 Live Potential Renal Donors for laparoscopic nephrectomy with multidetector row helical CT. Radiology 2005;237:973-80.

Sahani DV, Rastogi N, Greenfield AC, Kalva SP, Ko D, Saini S, Multidetector row CT in evaluation of 94 living renal donors by readers with varied experience, Radiology 2005;235:905-10.

Raman SS, Pojchamarnwiputh S, Muangsomboon K, Schulam PG, Gritsch HA, Lu DS. Utility of 16-MDCT angiography for comprehensive preoperative vascular evaluation of Laparoscopic renal donors, AJR 2006;186: 1630-8.

Apisarnthanarak P, Suvannarerg V, Muangsomboon K, Taweemonkongsap T, Hargrove NS. Renal vascular variants in living related renal donors: evaluation with CT angiography, J. Med Assoc Thai. 2012;95(7):941-8.

Kim JK, Park SY, Kim HJ, Kim CS, Ahn HJ, Ahn TY, et al. Living donor kidneys:usefulness of multidetector row CT for comprehensive evaluation. Radiology 2003;229: 869-76.

Namasivayam S, Small WC, Kalra MK,Torres WE, Newell KA, MIttal PK. Multidetector-row CT angiography for preoperative evaluation of potential laparoscopicrenal donors:how accurate are we? Clin imaging. 2006;30:
120-6.

Ekkasit S, Chutcharn K,Supakajeee S. Anatomical Cariation of Renal Vessels by 64 Slices Multidetector Computed Tomography(MDCT) Scan of abdomen at Pramongkutklao Hospital.RTA Med J;664:75-83.

Rydberg J, Kopecky KK, Tann M, Persohn SA, Leapman SB, Filo RS, et al. Evaluation of prospective living renal donors for laparoscopic nephrectomy with multisection CT;the marriage of minimally invasive imaging with minimally invasive surgery. Radiographics 2001;21:223-36.

Richstone L, Seideman C, Baldinger L, Permpandkosol SS, Jarrett TW, Su LM, et al. Conversion during laparoscopic surgery:frequency,indication and risk factors. J Urol 2008;80:855-9.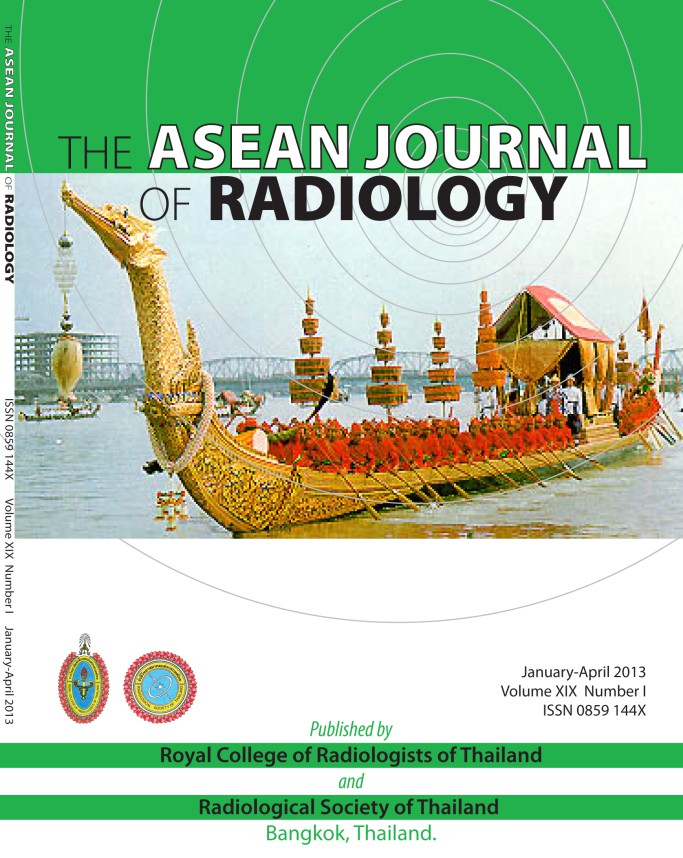 How to Cite
1.
Chitwiset S, Choonhaklai V. The Accuracy of Multidetector Row CT Angiography in the Evaluation of Living Kidney Donors. ASEAN-JR [Internet]. 29Apr.2013 [cited 30Mar.2020];19(1):43-0. Available from: http://asean-journal-radiology.org/index.php/ajr/article/view/21
Disclosure Forms and Copyright Agreements
All authors listed on the manuscript must complete both the electronic copyright agreement. (in the case of acceptance)