IDIOPATHIC ACUTE TRANSVERSE MYELITIS ; MR MANIFESTATION
Abstract
The purpose of this report is to describe the MR manifestations of patients who were diagnosed as idiopathic acute transverse myelitis (IATM ).
Eleven patients seen in a 4-year-period at Songklanagarind Hospital with clinically proved to be IATM were retrospectively reviewed. The location, size, pattern, segmental length of abnormal hyperintensity on T2-weighted images and pattern of abnormal enhancement were determined.
The findings are summerized as followed : No abnormality was detected in one case (9%). The region of involvement was mostly in the thoracic cord (85%). Most of the lesions (84%) were longer than 1 vertebral segment. The most sensitive images were T2 weighted images and the most common pattern of abnormal signal intensity in the spinal cord was the holocord (47%). Abnormal enhancement was seen in 57% of post contrast enhanced cases and all of them showed diffused vague enhancement.
Conclusion : MR manifestations of IATM are variable and non-specific. Most of them are seen as areas of hyperintensity on SE T2 weighted images without significant cord expansion. The lesions usually extend beyond one vertebral segment. Post Gadolineum study may show vague diffused enhancements or may not be enhanced at all. All these findings are similar to other previous studies.
Downloads
Download data is not yet available.
References
Tartaglino LM, Croul SE., Flanders AE, et al. Idiopathic Acute Transverse Myelitis: MR imaging findings. Radiology 1996;201:661-669.
Kyu Ho Choi, Kwang Soo Lee, Sun Ok Chung, et al. Idiopathic Transverse Myelitis : MR Characteristics. AJNR 1996;17:1151-1160.
Austin SG, Chi-Shing Zee, Waters C. The Role of Magnetic Resonance Imaging in Acute Transverse Myelitis. Can. J. Neurol. Sci. 1992;19:508-511.
Scott T, Weikers N, Hospodar M, Wapenski J. Acute Transverse Myelitis: A Retrospective Study Using Magnetic Resonance Imaging. Can. J. Neurol. Sci. 1994;21:133-136.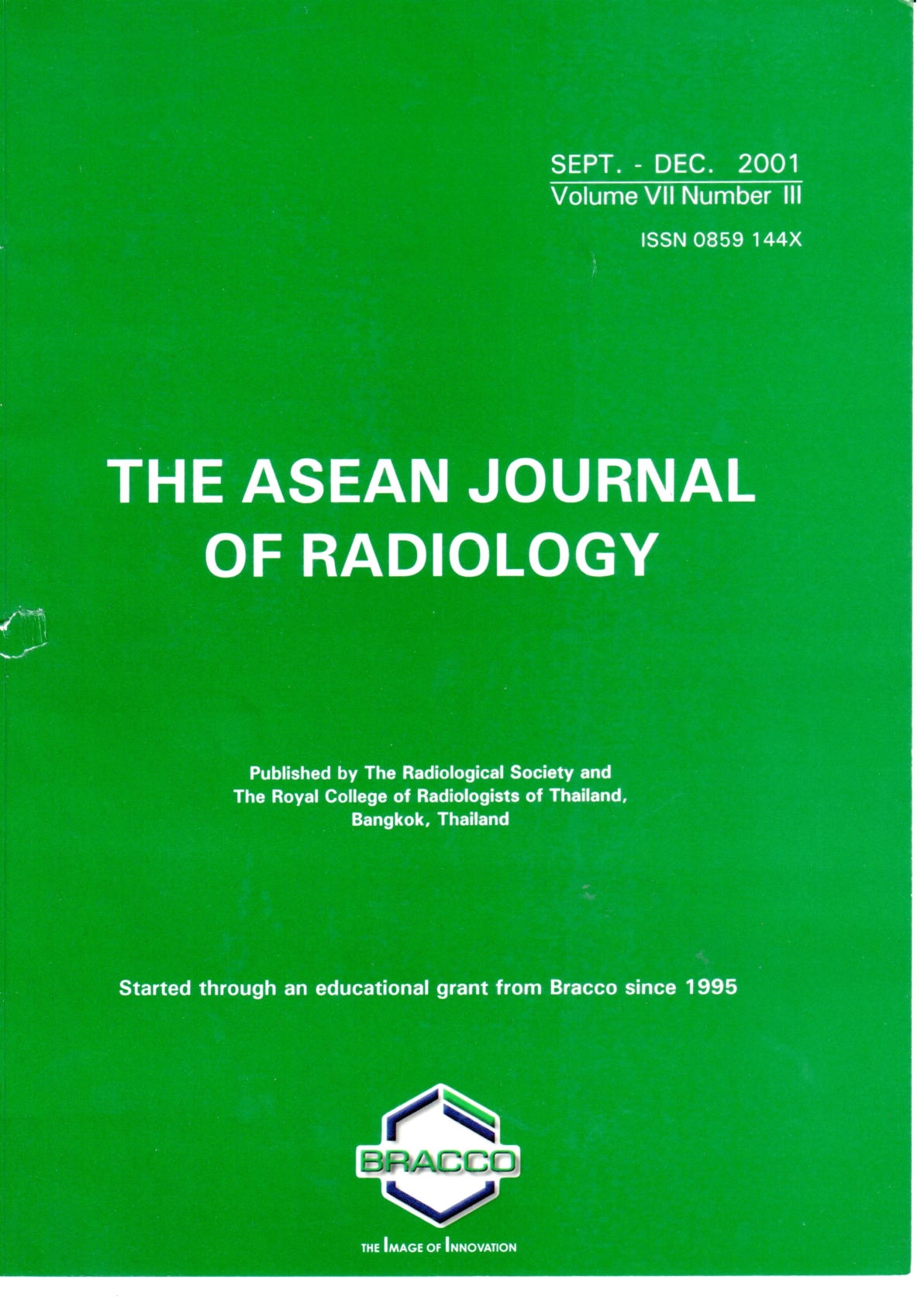 Downloads
How to Cite
1.
ROHITOPAKARN M, HIRUNPAT S, TANOMKIAT W. IDIOPATHIC ACUTE TRANSVERSE MYELITIS ; MR MANIFESTATION. ASEAN J Radiol [Internet]. 2023Apr.13 [cited 2023Jun.8];7(3):199-204. Available from: https://asean-journal-radiology.org/index.php/ajr/article/view/580
License
Copyright (c) 2023 The ASEAN Journal of Radiology
This work is licensed under a Creative Commons Attribution-NonCommercial-NoDerivatives 4.0 International License.
Disclosure Forms and Copyright Agreements
All authors listed on the manuscript must complete both the electronic copyright agreement. (in the case of acceptance)