Imaging of mucormycosis during the COVID-19 pandemic: A pictorial review
A pictorial review
Keywords:
Mucormycosis, COVID 19, Radiology
Abstract
During the second wave of the coronavirus disease 2019 (COVID-19) pandemic, there was a significant rise in cases of rhino-orbito-cerebral mucormycosis (ROCM), an invasive form of acute fungal rhinosinusitis with a propensity for rapid spread to the orbits and intracranial compartment. 
Prompt diagnosis and subsequent intervention in the form of surgical debridement and administration of antifungals is the mainstay of management of ROCM. Radiology plays a key role in the diagnosis of the disease and in the assessment of the extent of spread. This article serves to elaborate on the significant computed tomography (CT) and magnetic resonance imaging (MRI) findings in patients with ROCM. It is based on imaging findings of 146 microbiologically/ histopathologically proven cases that were presented to our institute for management during the second wave (April-June 2021).
While CT gives excellent details of bony anatomy, particularly of bony rarefaction, it has limitations in terms of assessment of soft tissue spread. MRI provides excellent soft tissue delineation and helps with the assessment of the involvement of orbit, particularly the orbital apex, as well as intracranial extension.
Downloads
Download data is not yet available.
References
Roden MM, Zaoutis TE, Buchanan WL, Knudsen TA, Sarkisova TA, Schauflee RL, et al. Epidemiology and outcome of zygomycosis: a review of 929 reported cases. Clin Infect Dis 2005;41:634-53. doi: 10.1086/432579.
Chander J. Textbook of medical mycology. 4th ed. New Delhi: Jaypee Brothers Medical Publishers; 2018. p.554-96.
Kwon-Chung KJ. Taxonomy of fungi causing mucormycosis and entomophthoramycosis (zygomycosis) and nomenclature of the disease: molecular mycologic perspectives. Clin Infect Dis 2012;54 Suppl 1:S8-15. doi: 10.1093/cid/cir864.
Ibrahim AS, Spellberg B, Walsh TJ, Kontoyiannis DP. Pathogenesis of mucormycosis. Clin Infect Dis 2012;54 Suppl 1:S16-22. doi: 10.1093/cid/cir865.
Honavar SG. Code Mucor: guidelines for the diagnosis, staging and management of rhino-orbito-cerebral mucormycosis in the setting of COVID-19. Indian J Ophthalmol 2021;69:1361-5. doi: 10.4103/ijo.IJO_1165_21.
Singh AK, Singh R, Joshi SR, Misra A. Mucormycosis in COVID-19: a systematic review of cases reported worldwide and in India. Diabetes Metab Syndr 2021;15(4):102146. doi: 10.1016/j.dsx.2021.05.019.
O'Brien WT Sr, Hamelin S, Weitzel EK. The preoperative sinus CT: avoiding a "CLOSE" call with surgical complications. Radiology 2016;281:10-21. doi: 10.1148/radiol.2016152230.
Middlebrooks EH, Frost CJ, De Jesus RO, Massini TC, Schmalfuss IM, Mancuso AA. Acute invasive fungal rhinosinusitis: a comprehensive update of CT findings and design of an effective diagnostic imaging model. AJNR Am J Neuroradiol 2015 ;36:1529-35. doi: 10.3174/ajnr.A4298.
Singh V. Fungal rhinosinisitis: unravelling the disease spectrum. J Maxillofac Oral Surg 2019;18:164-79. doi: 10.1007/s12663-018-01182-w.
Aribandi M, McCoy VA, Bazan C 3rd. Imaging features of invasive and noninvasive fungal sinusitis: a review. Radiographics 2007;27:1283-96. doi: 10.1148/rg.275065189.
Safder S, Carpenter JS, Roberts TD, Bailey N. The "Black Turbinate" sign: an early MR imaging finding of nasal mucormycosis. AJNR Am J Neuroradiol 2010;31:771-4. doi: 10.3174/ajnr.A1808.
Han Q, Escott EJ. The black turbinate sign, a potential diagnostic pitfall: evaluation of the normal enhancement patterns of the nasal turbinates. AJNR Am J Neuroradiol 2019;40:855-61. doi: 10.3174/ajnr.A6037.
Herrera DA, Dublin AB, Ormsby EL, Aminpour S, Howell LP. Imaging findings of rhinocerebral mucormycosis. Skull Base 2009;19:117-25. doi: 10.1055/s-0028-1096209.
Sravani T, Uppin SG, Uppin MS, Sundaram C. Rhinocerebral mucormycosis: pathology revisited with emphasis on perineural spread. Neurol India 2014;62:383-6. doi: 10.4103/0028-3886.141252.
Sanghvi D, Kale H. Imaging of COVID-19-associated craniofacial mucormycosis: a black and white review of the "black fungus". Clin Radiol 2021;76:812-9. doi: 10.1016/j.crad.2021.07.004.
Hatipoglu HG, Gurbuz MO, Yuksel E. Restricted diffusion in the optic nerve and retina demonstrated by MRI in rhino-orbital mucormycosis. J Neuroophthalmol 2009 ;29:13-5. doi: 10.1097/WNO.0b013e318183bde4.
Gaviani P, Schwartz RB, Hedley-Whyte ET, Ligon KL, Robicsek A, Schaefer P, et al. Diffusion-weighted imaging of fungal cerebral infection. AJNR Am J Neuroradiol 2005 ;26:1115-21.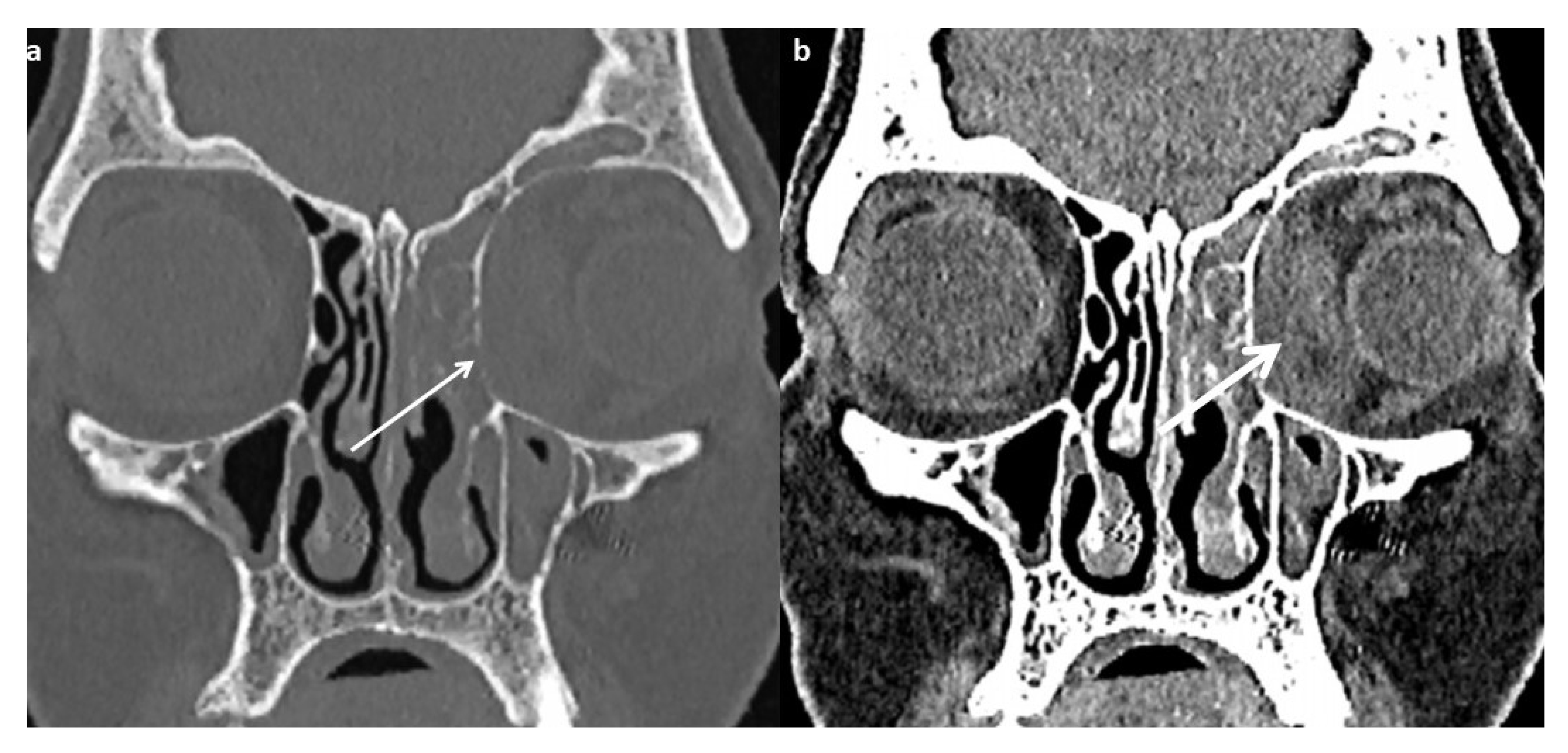 Downloads
How to Cite
1.
GANGULY U, AGARWAL S, ARORA B, BHARGAVA A, SINGH V, SHARMA C. Imaging of mucormycosis during the COVID-19 pandemic: A pictorial review: A pictorial review. ASEAN J Radiol [Internet]. 2022Apr.30 [cited 2022Aug.10];23(1):24-41. Available from: https://asean-journal-radiology.org/index.php/ajr/article/view/150
License
Copyright (c) 2022 The ASEAN Journal of Radiology
This work is licensed under a Creative Commons Attribution-NonCommercial-NoDerivatives 4.0 International License.
Disclosure Forms and Copyright Agreements
All authors listed on the manuscript must complete both the electronic copyright agreement. (in the case of acceptance)