Thymoma with pleural metastasis
Downloads
Download data is not yet available.
References
Falkson CB, Bezjak A, Darling G, Gregg R, Malthaner R, Maziak DE, et al. The management of thymoma: a systematic review and practice guideline. J Thorac Oncol 2009;4:911-9.
Girard N, Mornex F, Van Houtte P, Cordier JF, van Schil P. Thymoma: a focus on current therapeutic management. J Thorac Oncol 2009;4:119-26.
Huang J, Detterbeck FC, Wang Z, Loehrer PJ Sr. Standard outcome measures for thymic malignancies. J Thorac Oncol 2010;5:2017-23.
Koga K, Matsuno Y, Noguchi M, Mukai K, Asamura H, Goya T, et al. A review of 79 thymomas: modification of staging system and reappraisal of conventional division into invasive and non-inva sive thymoma. Pathol Int 1994;44:359-67.
Maher MM, Shepard JA. Imaging of thymoma. Semin Thorac Cardiovasc Surg 2005; 17:12-9.
Benveniste MF, Rosado-de-Christenson ML, Sabloff BS, Moran CA, Swisher SG, Marom EM. Role of imaging in the diagnosis, staging, and treatment of thymoma. Radiographics 2011;31:1847-61; discussion 1861-3.
Moran CA, Travis WD, Rosado-de-Christenson M, Koss MN, Rosai J. Thymomas presenting as pleural tumors. Report of eight cases. Am J Surg Pathol 1992;16:138-44.
Morgenthaler TI, Brown LR, Colby TV, Harper CM Jr, Coles DT. Thymoma. Mayo Clin Proc 1993;68: 1110-23.
Regnard JF, Magdeleinat P, Dromer C, Dulmet E, de Montpreville V, Levi JF, et al. Prognostic factors and long-term results after thymoma resection: a series of 307 patients. J Thorac Cardiovasc Surg 1996;112:376-84.
Regnard JF, Zinzindohoue F, Magdeleinat P, Guibert L, Spaggiari L, Levasseur P. Results of re-resection for recurrent thymomas. Ann Thorac Surg 1997;64:1593-8.
Restrepo CS, Pandit M, Rojas IC, Villamil MA, Gordillo H, Lemos D, et al. Imaging findings of expansile lesions of the thymus. Curr Probl Diagn Radiol 2005;34:22-34.
Rosado-de-Christenson ML, Strollo DC, Marom EM. Imaging of thymic epithelial neoplasms. Hematol Oncol Clin North Am 2008;22:409-31.
Sadohara J, Fujimoto K, Müller NL, Kato S, Takamori S, Ohkuma K, et al. Thymic epithelial tumors: comparison of CT and MR imaging findings of low-risk thymomas, high-risk thymomas, and thymic carcinomas. Eur J Radiol 2006;60:70-9.
Santana L, Givica A, Camacho C; Armed Forces Institute of Pathology. Best cases from the AFIP: thymoma. Radiographics 2002;22 Spec No:S95-S102.
Strollo DC, Rosado de Christenson ML, Jett JR. Primary mediastinal tumors. Part 1: tumors of the anterior mediastinum. Chest 1997;112:511-22.
Ströbel P, Bauer A, Puppe B, Kraushaar T, Krein A, Toyka K, et al. Tumor recurrence and survival in patients treated for thymomas and thymic squamous cell carcinomas: a retrospective analysis. J Clin Oncol 2004;22:1501-9.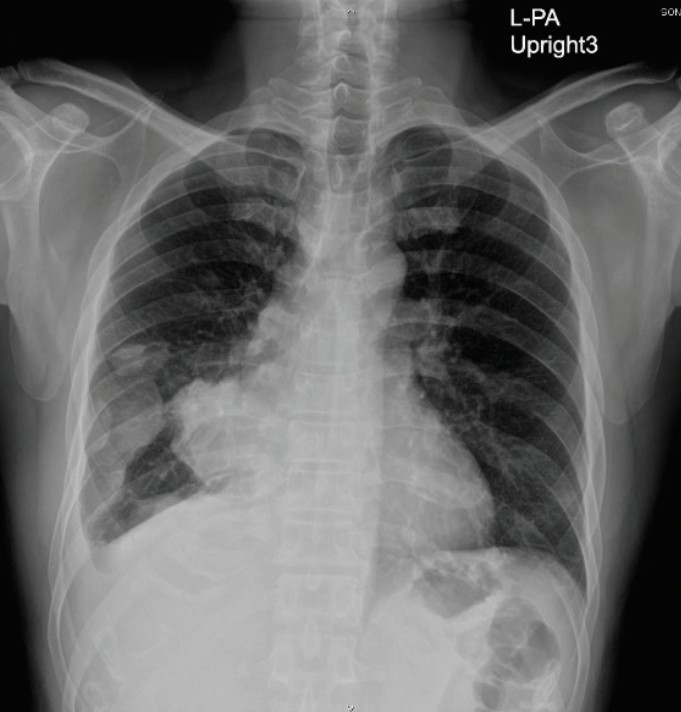 Downloads
How to Cite
1.
Limsuknirun A. Thymoma with pleural metastasis. ASEAN J Radiol [Internet]. 2019Jan.23 [cited 2022Dec.2];19(3):31-6. Available from: https://asean-journal-radiology.org/index.php/ajr/article/view/4
License
Copyright (c) 2017 The ASEAN Journal of Radiology
This work is licensed under a Creative Commons Attribution-NonCommercial-NoDerivatives 4.0 International License.
Disclosure Forms and Copyright Agreements
All authors listed on the manuscript must complete both the electronic copyright agreement. (in the case of acceptance)