IMAGING OF OCULOMOTOR NERVE PALSY: LESIONS AT MEDIOVENTRAL PART OF THE THALAMUS AND MIDBRAIN
Abstract
Two patients presented with third nerve palsy. One patient had an ischemic focus at anteromedial part of the thalamus and another patient had a subacute hematoma at anteromedial part of the thalamus, upper pons and midbrain. The images were demonstrated by MRI study. Discussion concerning the path of the oculomotor nerves and the pathologic processes were performed.
Downloads
Download data is not yet available.
References
Blake PY, Mark AS, Kattah J, Kolsky M. MR of oculomotor nerve palsy, AJNR 1995;16:1665- 72.
Carpenter MB. Core Text of Neuroanatomy. 4th ed, Baltimore, Md: Williams & Wilkins:- 1991:133-56.
Ksiazek SM, Repka MX, Maguire A, Harbour RC, et al. Divisional oculomotor nerve paresis caused by intrinsic brain stem disease. Ann Neurol 1989;26:714-8.
Warwick R. Representation of the extra-ocular muscles in the oculomotor nuclei of the monkey. J Comp Neurol 1953;98:449-504.
Derakhashan I. Superior branch palsy of the oculomotor nerve with spontaneous recovery. Ann Neurol 1978;4:478-9.
Feder R, Camp A. Superior branch palsy of oculomotor nerve and pupillary constriction caused by intracranial carotid artery aneurysm. Ann Neurol 1979;5:493-5.
Masucci EF, Kurtzke JF. Diabetic superior branch palsy of the oculomotor nerve. Ann Neurol 1980;7:493.
Osher RH, Corbett JJ, Schatz NJ, et al. Neuro- ophthalmologic complications of enlargement of the third ventricle. Br J Ophthalmol 1978;62:536-42.
Trobe JD, Glaser JS, Post JD. Meningiomas and aneurysms of the cavernous sinus. Arch Ophthalmol 1978;96:457-67.
Cross AG. The ocular sequelae of head injury. An R Coll Surg Engl 1948;2:233-40.
Susac JO, Hoyt WF. Inferior branch palsy of the oculomotor nerve. Ann Neurol 1977:2:336-9.
Walsh FB, Hoyt WF. Clinical neuro- ophthalmology, vol 1. 3rd ed. Baltimore:- Willians & Wilkins 1969:256.
Liu GT, Carrazana EJ, Charness ME. Unilateral oculomotor palsy and bilateral ptosis from paramedian midbrain infarction. Arch Neurol 1991;48:983-6.
Castro O, Johnson LN, Mamourian AC. Isolated inferior oblique paresis from brain-stem infarction: perspective oculomotor fascicular organization in the ventral midbrain tegmentum. Arch Neurol 1990;47:235-7.
Miller NR. Walsh and Hoyt's Clinical Neuroophthalmology. 4th ed. Baltimore, Md: Williams & Wilkins; 1985:657-63.
Nadeau SE, Trobe JD. Pupil sparing in oculomotor palsy: a brief review. Ann Neurol. 1983;13:146-8.
Keane JR. Isolated brain-stem third nerve palsy. Arch Neurol 1988;45:813-4.
Ksiazek SM, Repka MX, Maguire A, et al. Division oculomotor nerve paresis caused by intrinsic brain stem disease. Ann Neurol 1989:26:714-8.
Collard M, Saint-Val C, Mohr, Kiesmann M. Paralysis isolee du nerf moteur oculaire commun par infarctus de ses fibres fasciculaires. Rev Neurol 1990;146:128-32.
Hriso E, Miller A, Masdeu JC. Monocular elevation weakness and ptosis: an oculomotor fascicular syndrome? Neurology 1990;40 (suppl 1):309-10.
Hopf HC, Gutmann L. Diabetic 3rd nerve palsy: evidence for a mesencephalic lesion. Neurology 1990;40:1041-5.
Bell DA, Davis WL, Osborn AG, Harnsberger HR. Bithalamic hyperintensity on T2-weighted MR: vascular causes and evaluation with MR angiography. AJNR 1994;15:893-9.
Biller J, Yuh WTC, Mitchell GW, Bruno A, Adams HP Early diagnosis of basilar artery occlusion using MRI. Stroke 1988;19:297-306.
Erbguth F, Brenner P, Schulerer G, Druschky K- F, Neundorfer B. Diagnosis and treatment of deep cerebral vein thrombosis. Neurosurg Rev 1991;14:145-8.
Ashforth RA, Melanson D, Ethier R. MR of deep cerebral venous thrombosis. Can J Neurol Sci 1989;16:417-21.
Rippe DJ, Boyko OB, Spritzer CE, et al. Demonstration of dural sinus occlusion by the use of MR angiography. AJNR 1990;11:199- 201.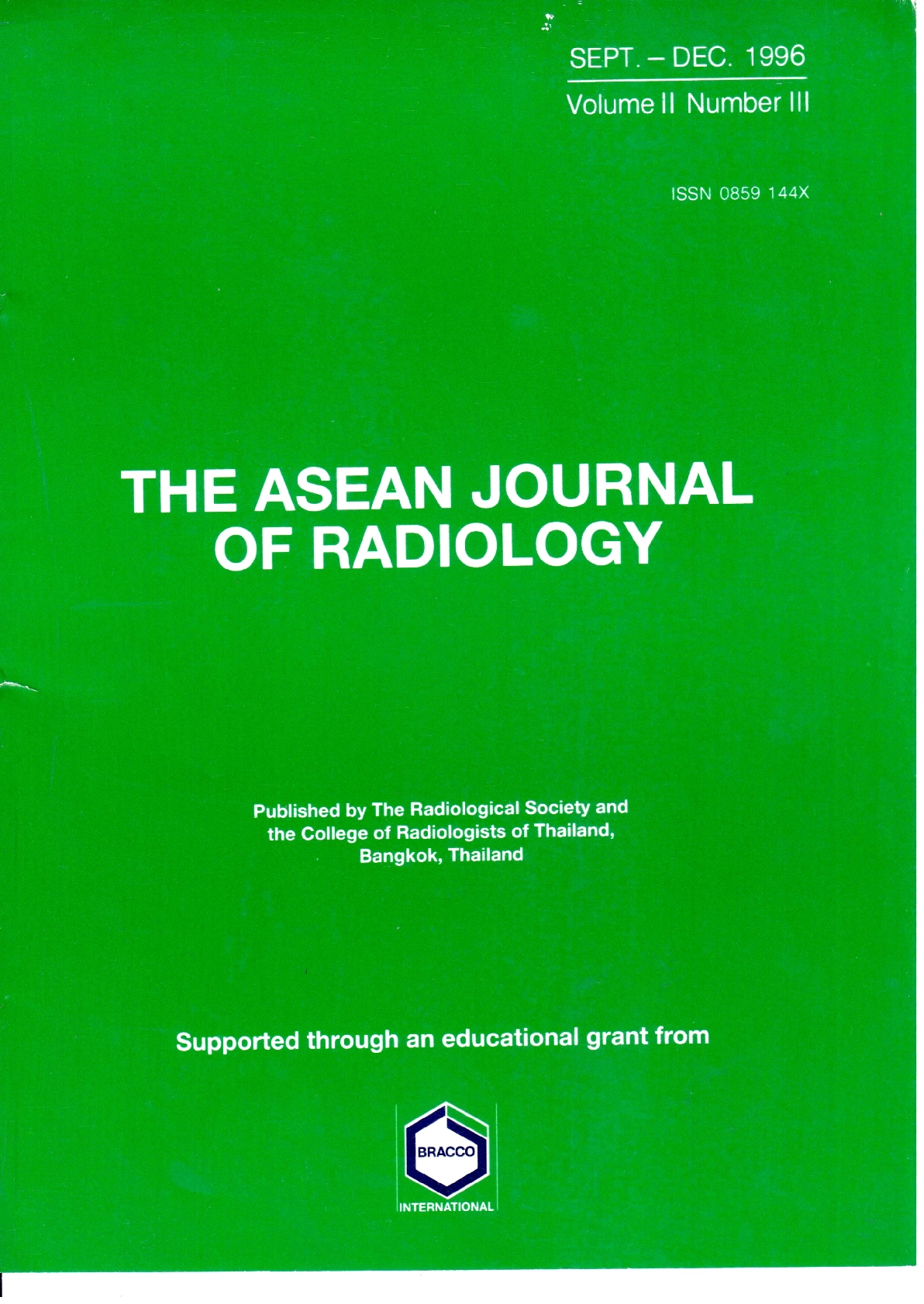 Downloads
How to Cite
1.
PEKANAN P, HIRUNPAT S, WICHIWANIWED P, OSATHAVANICHVONG K. IMAGING OF OCULOMOTOR NERVE PALSY: LESIONS AT MEDIOVENTRAL PART OF THE THALAMUS AND MIDBRAIN. ASEAN J Radiol [Internet]. 2023Apr.3 [cited 2023Jun.8];2(3):209-14. Available from: https://asean-journal-radiology.org/index.php/ajr/article/view/341
License
Copyright (c) 2023 The ASEAN Journal of Radiology
This work is licensed under a Creative Commons Attribution-NonCommercial-NoDerivatives 4.0 International License.
Disclosure Forms and Copyright Agreements
All authors listed on the manuscript must complete both the electronic copyright agreement. (in the case of acceptance)