Tumefactive Multiple Sclerosis Clinically Mimicking Acute Stroke and Lesional Migration Along the Biopsy Tract: A Case Report
Abstract
Tumefactive multiple sclerosis is a form of demyelinating disease which patient can present with acute stroke. We reported a case of a 49-year-old woman with well controlled hypertension, who presented with right hemiplegia 15 hours prior to admission. The initial diagnosis of acute stroke was made. Emergency computed tomography showed hypodense lesion at the left lentiform nucleus and posterior limb of the left internal capsule. The magnetic resonance imaging (MRI) study showed hyperintense FLAIR lesion in the left lentiform nucleus, left internal capsule, left thalamus, and periventricular area of the left frontoparietal region, some areas of restricted diffusion and inhomogeneous enhancement. The MR spectroscopy (MRS) of the lesion showed increased choline peak, decreased creatine and NAA peaks, and maximal choline to creatine ratio 2.25. Her symptoms deteriorated with progressive headache and motor aphasia. The follow up MRI showed extension of the inhomogeneous enhancing lesion along the biopsy tract at the left frontal lobe with the enhancing and MR spectra pattern similar to the lesion. The craniotomy with left frontal lesion excision included the mass and the biopsy tract was done. The lesion showed acute and chronic inflammatory cell infiltration with macrophages, necrotic tissue and reactive gliosis. The further pathological worked up demonstrated foci of demyelination with relative axonal preservation, numerous CD68+ macrophages with intracyto-plasmic Luxol fast blue(+) myelin debris. Perivascular and parenchymal CD3+ T-cells were identified, especially in demyelinating foci. These findings supported the diagnosis of tumefactive multiple sclerosis. Her conditions were improved after treating with pulse methylprednisolone and intravenous immunoglobulin (IVIG). Follow up MRI study 4 months after treatment revealed almost resolution of the preexisting inhomogeneous enhancing lesion.
Downloads
Download data is not yet available.
References
Lucchinetti CF, Gavrilova RH, Metz I, Parisi JE, Scheithauer BW, Weigand S. Clinical and radiographic spectrum of pathologically confirmed tumefactive multiple sclerosis. Brain 2008;131:1759-75.

Yacoub HA, Al-Qudahl ZA, Lee HJ, Baisre A, Souayah N. Tumefactive multiple sclerosis presenting as acute ischemic stroke. Journal of Vascular and Interventional Neurology 2011;4(2):21-3.

Trapp BD, Peterson J, Ransohoff RM, Rudick R, Mörk S, Bö L. Axonal transection in the lesions of multiple sclerosis. The New England Journal of Medicine 1998; 338(5): 278-85.

Ge Y, Law M, Herbert J, Grossman RI. Prominent perivenular spaces in multiple sclerosis as a sign of
perivascular inflammation in primary demyelination. AJNR 2005; 26:2316-9.

Given CA, Stevens BS, Lee C. The MRI appearance of tumefactive demyelinating lesions. AJR 2004;182:195-9.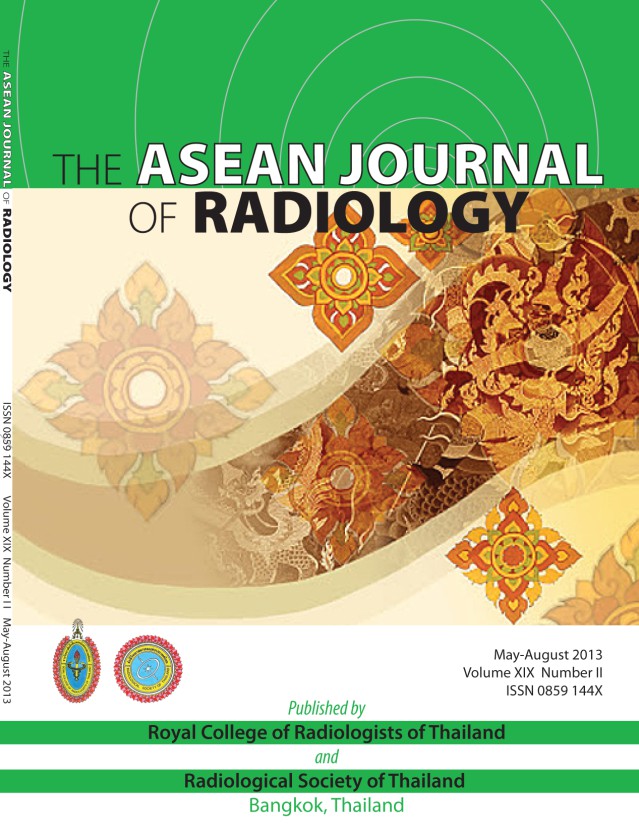 Downloads
How to Cite
1.
Tritanon O, Singhsnaeh A, Laothamatus J, Boongird A, Ratanakorn D, Nitiyanant P. Tumefactive Multiple Sclerosis Clinically Mimicking Acute Stroke and Lesional Migration Along the Biopsy Tract: A Case Report. ASEAN J Radiol [Internet]. 2019Mar.11 [cited 2023Oct.4];19(2):148-53. Available from: https://asean-journal-radiology.org/index.php/ajr/article/view/33
License
Disclosure Forms and Copyright Agreements
All authors listed on the manuscript must complete both the electronic copyright agreement. (in the case of acceptance)