EFFICACY AND SAFETY OF PERCUTANEOUS TRANSTHORACIC NEEDLE ASPIRATION BIOPSY UNDER SOME LIMITATIONS: A PROSPECTIVE STUDY IN 109 PATIENTS
Abstract
Percutaneous transthoracic needle biopsy was performed in 109 patients during April 1992 - April 1995. Diagnostic yield was slightly lower than the foreign reports due to different types of the needles used and the lack of immediate cytology reports. The incidence of hemoptysis was similar to other reports but the occurrence of the pneumothorax was less due to less repetition of the needle puncture. Considering socioeconomic and lack of medical-personnel-power in this country, this procedure as practised by us is quite practical.
Downloads
Download data is not yet available.
References
Fraser RS, Pare JAP, Fraser RG, Pare PD. Methods of roentgenologic and pathologic investigation in Synopsis of Disease of the chest. 2nd Ed. Philadelphia: Saunders: 1994; 132-133.
Thammakumpee G. Transthoracic needle aspiration biopsy of lung lesions in Songklanagarind Hospital.
Songklanagarind Medical Journal 1992; 10: 219-223.
Sirivanichai C. Ultrasound-guided biopsy of thoracic tumors. Presented in the 32th Annual Meeting of Thai Radiological Society of Thailand. 26-28 Jan 1995, Bangkok.
Chonnmitri I. Fine needle aspiration biopsy of lung lesions. J Med Assoc Thai 1993; 76: 394-398.
The American Thoracic Society. Guideline for percutaneous transthoracic needle biopsy. Am Rev Respi Dis 1989; 140: 255.
Perlmut LM, Johrnston WW, Dunnick NR. Percutaneous transthoracic needle aspiration: A review. AJR 1989; 152: 451-455.
Zavala DC, Schoel JE. Ultrathin needle aspiration of the lung in infectious and malignant disease. Am Rev Respi Dis 1981; 123: 125.
Yazdi HM, Macdonald LL, Hickey NM. Thoracic fine needle aspiration biopsy versus fine needle cutting biopsy: a comparative study of 40 patients. Acta Cyto 1988; 32: 635.
Austin JH, Cohen MB. Value of having a cytopathologist present during percutaneous fine- needle aspiration biopsy of lung: report of 55 cancer patients and metaanalysis of the literature. AJR 1993; 160: 175-177.
Stevens JM, Jackman RJ. Outpatient needle biopsy of the lung: its safety and utility, Radiology 1984; 134: 301-304.
Fish GD, Stanley JH, Scott Miller K, et al. Postbiopsy pneumothorax: estimating the risk by chest radiography and pulmonary function tests. AJR 1988; 150: 71-74.
Khouri NF, Stitik, Erozan YS, et al. Transthoracic needle aspiration biopsy of benign and malignant lung lesions. AJR 1985; 144: 281-288.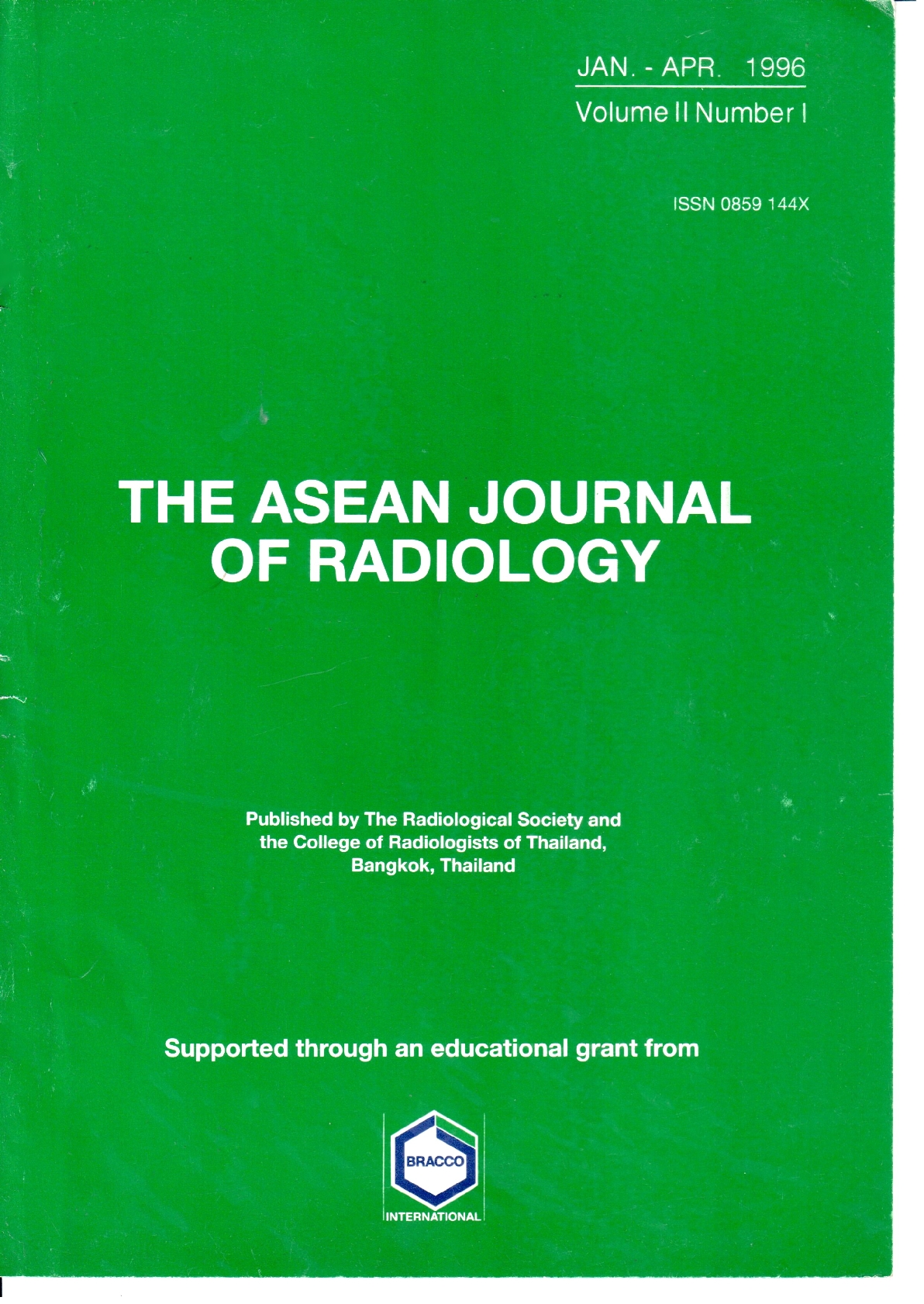 Downloads
How to Cite
1.
TANISARO K, WEERAYACHAIYO W, NIRAPATHAPONGPORN S, PEKANAN P, KUMPOLPUNTH S. EFFICACY AND SAFETY OF PERCUTANEOUS TRANSTHORACIC NEEDLE ASPIRATION BIOPSY UNDER SOME LIMITATIONS: A PROSPECTIVE STUDY IN 109 PATIENTS. ASEAN J Radiol [Internet]. 2023Mar.31 [cited 2023Oct.4];2(1):85-7. Available from: https://asean-journal-radiology.org/index.php/ajr/article/view/298
License
Copyright (c) 2023 The ASEAN Journal of Radiology
This work is licensed under a Creative Commons Attribution-NonCommercial-NoDerivatives 4.0 International License.
Disclosure Forms and Copyright Agreements
All authors listed on the manuscript must complete both the electronic copyright agreement. (in the case of acceptance)