NEUROIMAGING OF THE CNS INVASION OF GNATHOSTOMA SPINIGERUM AND ANGIOSTRONGYLUS CANTONENSIS IN A NORTHERN THAI PATIENT
Abstract
A case of mixed parasitic infestation of the CNS was demonstrated by CT scan, MRI scan and angiography. The patient was 51-yrs-old female farmer presented with neurological deficits. Gnathostomiasis and Angiostrongyliasis was responsible for the symptoms. Multiple hematomas are seen in the spinal cord, central canal and in the brain. Dissection of the vertebral artery was also noted. Most of the changes represented the manifestation of Gnathostomiasis.
Downloads
Download data is not yet available.
References
Boongird P, Vejjajiva A. Gnathostomiasis. Travel Medicine International 1994;12:214-219.
Schmutzhard E, Boongird P, Vejjajiva A. Eosinophilic meningitis and radiculomyelitis in Thailand, caused by CNS invasion of Gnathostoma spinigerum and Angiostrongylus cantonensis. Journal of Neurology, Neurosurgery, and Psychiatry 1988;51:80-87.
Punyagupta S, Bunnag T, Juttijudata P, Rosen L. Eosinophilic meningitis in Thailand. Epidemiologic studies of 484 typical cases and the etiologic role of Angiostrongylus cantonensis. Am J Trop Med Hyg 1970;19:950-58.
Punyagupta S, Juttijudata P, Bunnag T. Eosinophilic meningitis in Thailand. Clinical studies of 484 typical cases probable caused by Angiostrongylus cantonensis. Am J Trop Med Hyg 1975;24:924-31.
Chitanondh H, Rosen L. Fatal eosinophilic encephalomyelitis caused by nematode Gnathostome spinigerum. Am J Trop Med Hyg 1967;16:638-45.
Bunnag T, Comer DS, Punyagupta S. Eosinophilic myeloencephalitis caused by Ganathostoma spinigerum. Neuropathology of nine cases. J Neurol Sci 1970;10:419-34.
Punyagupta S, Jittijudata P, Bunnag T, Comer Ds. Two fatal cases of eosinophilic mycloencephalitis: a newly recognized disease caused by Gnathostoma spinigerum. Trans Roy Sco Trop Med Hyg 1968;62:801-9;
Scowden EB, Schaffner W, Stone WJ, Overwhelming strongyloidiasis: an unappreciated opportunistic infection. Medicine 1978;57:527-44.
Most H, Abeles MM. Trichiniasis involving the nervous system. Arch Neurol Psychiatr 1937; 37:589-616.
Woodruff AW. Toxocariasis. Br. Med J 1970; 2:589-616.
Rosenberg S, Lopes MBS, Masuda Z, Campos R, Vieria Bressan MCR. Fatal encephalopathy due to Lagochilascaris minor infection. Am J Trop Med Hyg 1986;35:575-8.
Fox AS, Boyer KM. Fatal eosinophilic meningoencephalitis and visceral larva migrans caused by the racoon ascarid. Baylisuscaris procyonis. N Engl J Med 1985;312:1619-23.
Khalil LF. Larval nematodes in the herring (clupea Harengus) from British coastal waters and adjacent territories. J Marine Biol Assoc UK 1969;49:641-59.
Oh SJ Cerebral paragonimiasis. Trans Am Neurol Assoc 1967;92:275-7.
Scrimgeour EM, Gajdusek DC. Involvement of the central nervous system in Schistosoma mansoni and S. haematobium infection. Brain. 1985;108:1023-38.
McCorkell SJ, Lewall DB. Computed tomography of intracerebral echinococcal cysts in children. J Comp Assist Tomogr 1985;9:514-8.
McGormic GF, Zee CS, Heiden J. Cysticercosis cerebri, review of 127 cases. Arch Neurol 1982;39:534-9.
Fan KJ, Pezeshkpour GH. Cerebral sparganosis. Neurology 1986;36:1249-51.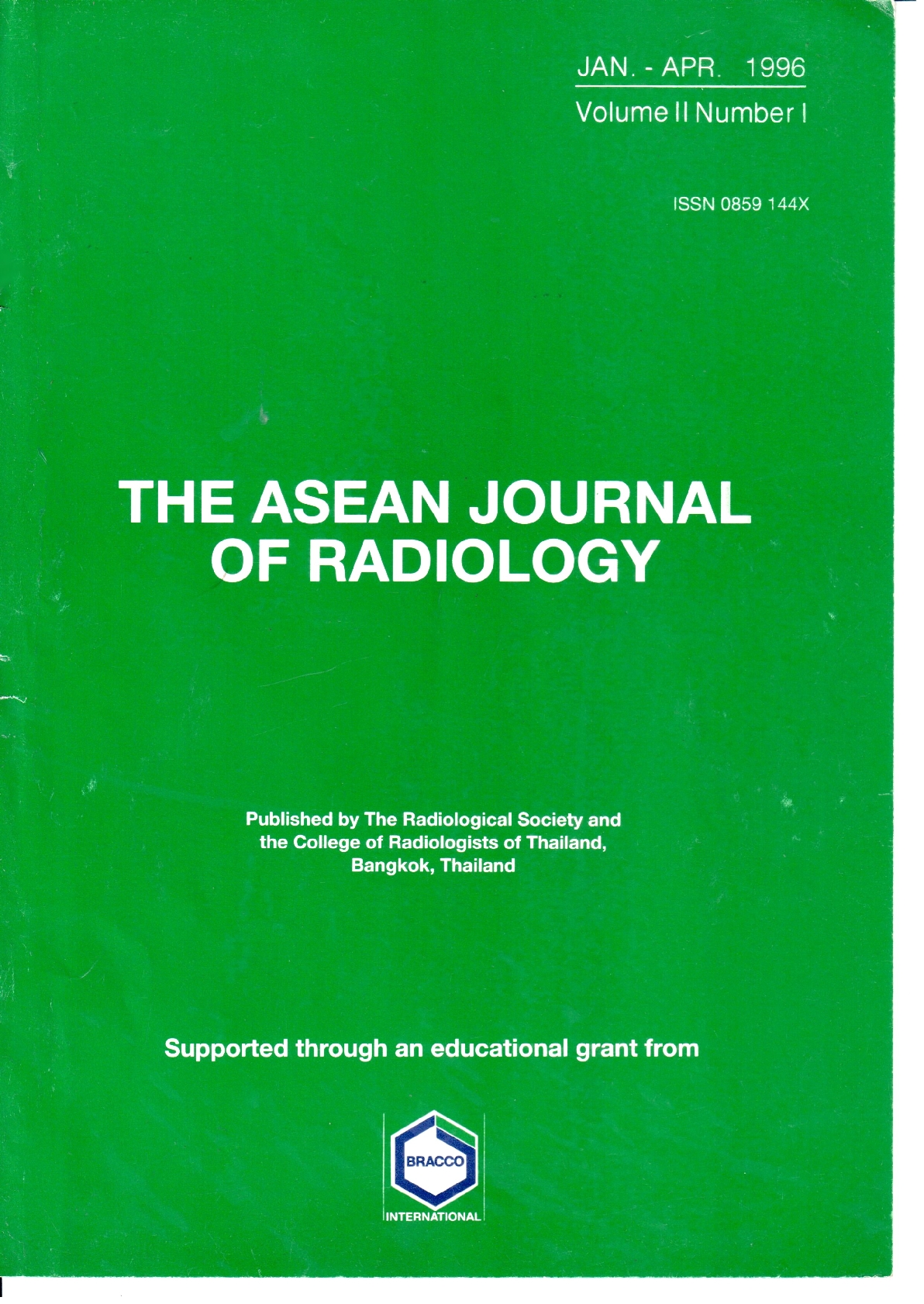 Downloads
How to Cite
1.
PEKANAN P, PONGPECH S, HIRUNPAT S, JONGJIRASIRI S, KUMPOLPUNTH S. NEUROIMAGING OF THE CNS INVASION OF GNATHOSTOMA SPINIGERUM AND ANGIOSTRONGYLUS CANTONENSIS IN A NORTHERN THAI PATIENT. ASEAN J Radiol [Internet]. 2023Mar.31 [cited 2023Jun.8];2(1):79-84. Available from: https://asean-journal-radiology.org/index.php/ajr/article/view/297
License
Copyright (c) 2023 The ASEAN Journal of Radiology
This work is licensed under a Creative Commons Attribution-NonCommercial-NoDerivatives 4.0 International License.
Disclosure Forms and Copyright Agreements
All authors listed on the manuscript must complete both the electronic copyright agreement. (in the case of acceptance)