CYSTIC DUCT LEAKAGE AFTER LAPAROSCOPIC CHOLECYSTECTOMY: DEMONSTRATED BY SPIRAL CT CHOLANGIOGRAPHY
Abstract
Bile leakage from the cystic duct stump, was demonstrated by spiral CT cholangiography. The patient was 55 years old and was underwent laparoscopic cholecystectomy. Spiral CT cholangio- graphy is a simple and quick imaging study to detect such leakage.
Downloads
Download data is not yet available.
References
Politoske EJ. Bile duct leakage after laparoscopic cholecystectomy diagnosed by radioisotopic. scanning. Clinical nuclear medicine 1993; 18: 318-320.
Estrada WN, Zanzi I, Ward R, Negrin JA, Margouleff D. Scintigraphic evaluation of postoperative complications of laparoscopic cholecystectomy. J Nucl Med 1991; 31: 1910-1911.
Pasmans HLM., et al. Scintigraphic diagnosis of bile leakage after laparoscopic cholecystectomy. A prospective study. Clinical nuclear medicinc 1992; 17: 697-700.
Trerotola SO, et al. Biliary tract complications following laparoscopic cholecystectomy: Imaging and intervention. Radiology 1992; 184: 195-200.
Ward EM, et el. Imaging of complications of Laparoscopic cholecystectomy. Abdom Imaging 1993; 18: 150-155.
Brandabur JJ, Kozarek RA. Endoscopic repair of bile leaks after laparoscopic cholecystectomy. Seminars in Ultrasound, CT, and MRI 1993; 14: 375-380.
Klein HM, Wein B, Truong S, Pfingsten FP, Guenther RW. Computed tomographic cholan- giography using sprial scanning and 3D image processing, Br J Radiol 1993;66:762-767.
Van Beers BE, Lacrosse M, Trigaux JP, de Canniere L, De Ronde T, Pringot J. Noninvasive imaging of the biliary tree before or after laparoscopic cholecystectomy: Use of three dimensional spiral CT cholangiography. AJR 1994; 162: 1331-1335.
Scott IR, Gibney RG, Becker CD, Fache JS, Burshenne HJ. The use of intravenous cholan- giography in teaching hospitals:a survey. Gastrointest Radio 1989; 14: 148-150.
Berk RN, Loeb PM. Biliary contrast materials. In: Berk RN, Ferrucci JT, Leopold GR eds. Radiology of the gallbladder and bile ducts: diagnosis and intervention. Philadelphia: Saunders, 1983: 55-82.
Joyce WP, Keane R, Burke GJ, et al. Iden- tification of bile duct stones in patients undergoing laparoscopic cholecystectomy. Br J Surg 1991; 78: 1174-1176.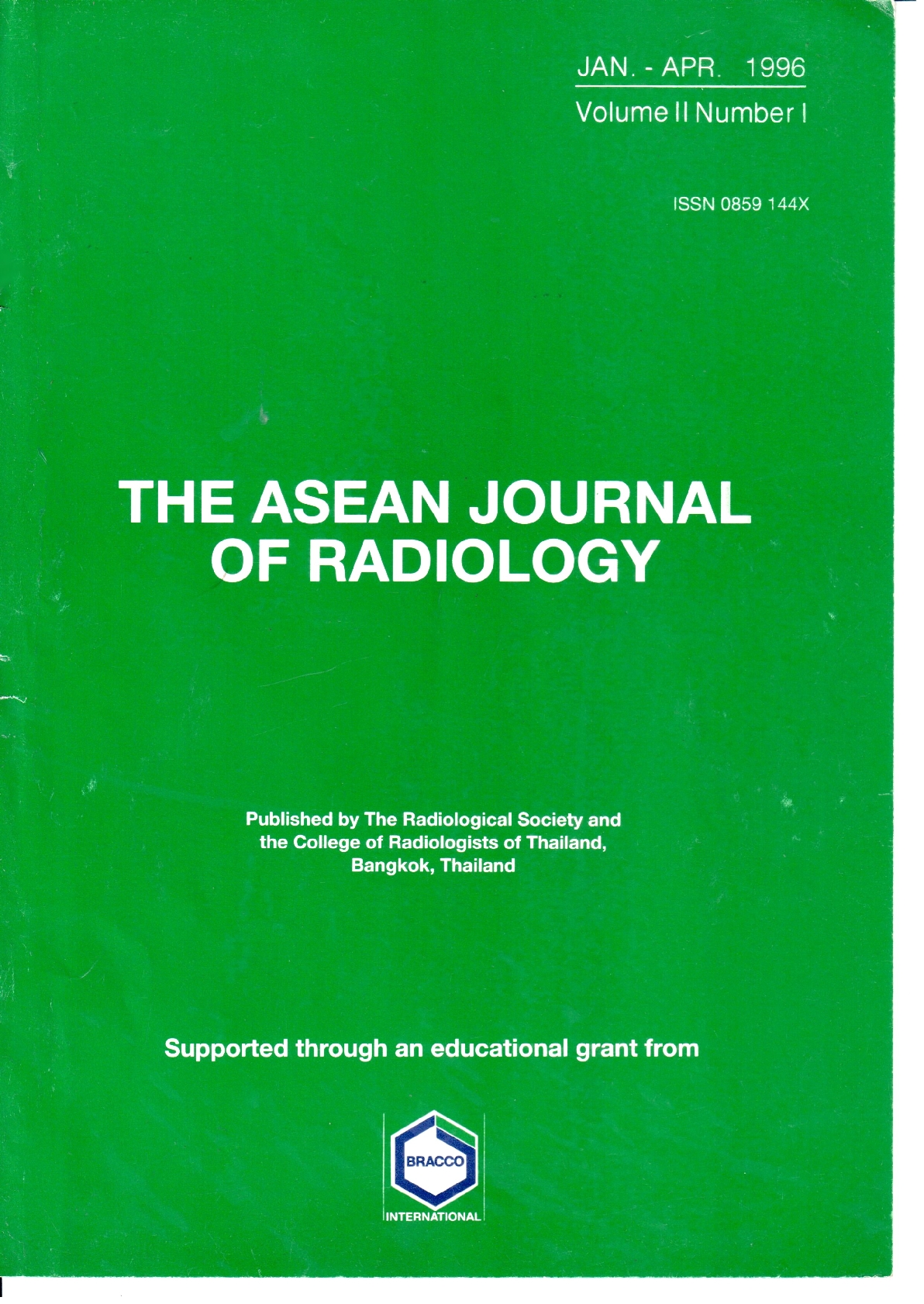 Downloads
How to Cite
1.
SUCHATO C, PEKANAN P, KUMPOLPUNTH S, DANGKHAO W. CYSTIC DUCT LEAKAGE AFTER LAPAROSCOPIC CHOLECYSTECTOMY: DEMONSTRATED BY SPIRAL CT CHOLANGIOGRAPHY. ASEAN J Radiol [Internet]. 2023Mar.31 [cited 2023Oct.4];2(1):73-5. Available from: https://asean-journal-radiology.org/index.php/ajr/article/view/295
License
Copyright (c) 2023 The ASEAN Journal of Radiology
This work is licensed under a Creative Commons Attribution-NonCommercial-NoDerivatives 4.0 International License.
Disclosure Forms and Copyright Agreements
All authors listed on the manuscript must complete both the electronic copyright agreement. (in the case of acceptance)