NASAL AND PERINASAL FIBRO-OSSEOUS LESIONS
Abstract
Three cases of nasal and perinasal fibro-osscous lesions were described. Two cases of ossifying fibroma appeared in a 12 year old boy and a 23-year old female patient. One case of cementifying fibroma was seen in a 60-year old female patient. The imaging appearance of the first case of ossifying fibroma and of the cementifying fibroma was similar. It appeared as a well defined border ossified mass with expansion of the structures that contain it without destruction of the surrounding structures. The second case of ossifying fibroma showed a huge invasive mass, however, maintaining the expanded behavior and containing ossified or calcified area. The images studied included plain films and CT scan.
Downloads
Download data is not yet available.
References
Mohammadi-Araghi H, Haery C. Fibro-osseous lesions of craniofacial bones: the role of imaging. Radiologic Clinics of North America 1993; 31: 121-134.
Pecaro BC. Fibro-osseous lesions of the head and neck. Otolaryngol Clin North Am 1986; 19: 489-495.
Margo CE, Ragsdale BD. Perman KL. Psammo- matoid (juvenile) ossifying fibroma of the orbit. Ophthalmology 1985; 92: 150-159.
Montgomery AH. Ossifying fibroma of jaw. Arch Surg 1927; 15: 30-44.
Eversole LR. Sabes WR, Rovin S. Fibrous dysplasia: A nosologic problem in the diagnosis of fibro-osseous lesions of the jaw. J Oral Pathol 1972; 1: 189-220.
Furedi A. A study of so-called osteofibromas of the maxilla. Dental Cosmos 1935; 77: 990-1010.
Waldron CA, Giansanti JS. Benign fibro-osseous lesions of the jaws: A clinical-radiologic histologic review of sixty-five case. Part II. Benign fibro- osseous lesions of periodontal ligament origin. Oral Surg Oral Med Oral Pathol 1973; 35: 340-350.
Reed RJ. Fibrous dysplasia of bone. Arch Pathol 1963; 75: 480-495.
Damjanov I, Maenza RM, Snyder CG III. Juvenile ossifying fibroma: An ultrastructural study. Cancer 1978; 42: 2668-2674.
Georgiade N, Masters F, Horton C. Ossifying fibroma (fibrous dysplasia) of the facial bones in children and adolescents. J Pediatr 1955; 46: 36-43.
Schilds JA, Nelson LB, Brown JF. Clinical computed tomographic and histopathological characteristics of juvenile ossifying fibroma with orbital involvement. Am J Ophthal 1983; 96: 650-653.
Test D, Schow C, Cohen D, Juvenile ossifying fibroma. J Oral Surg. 1976; 34: 907.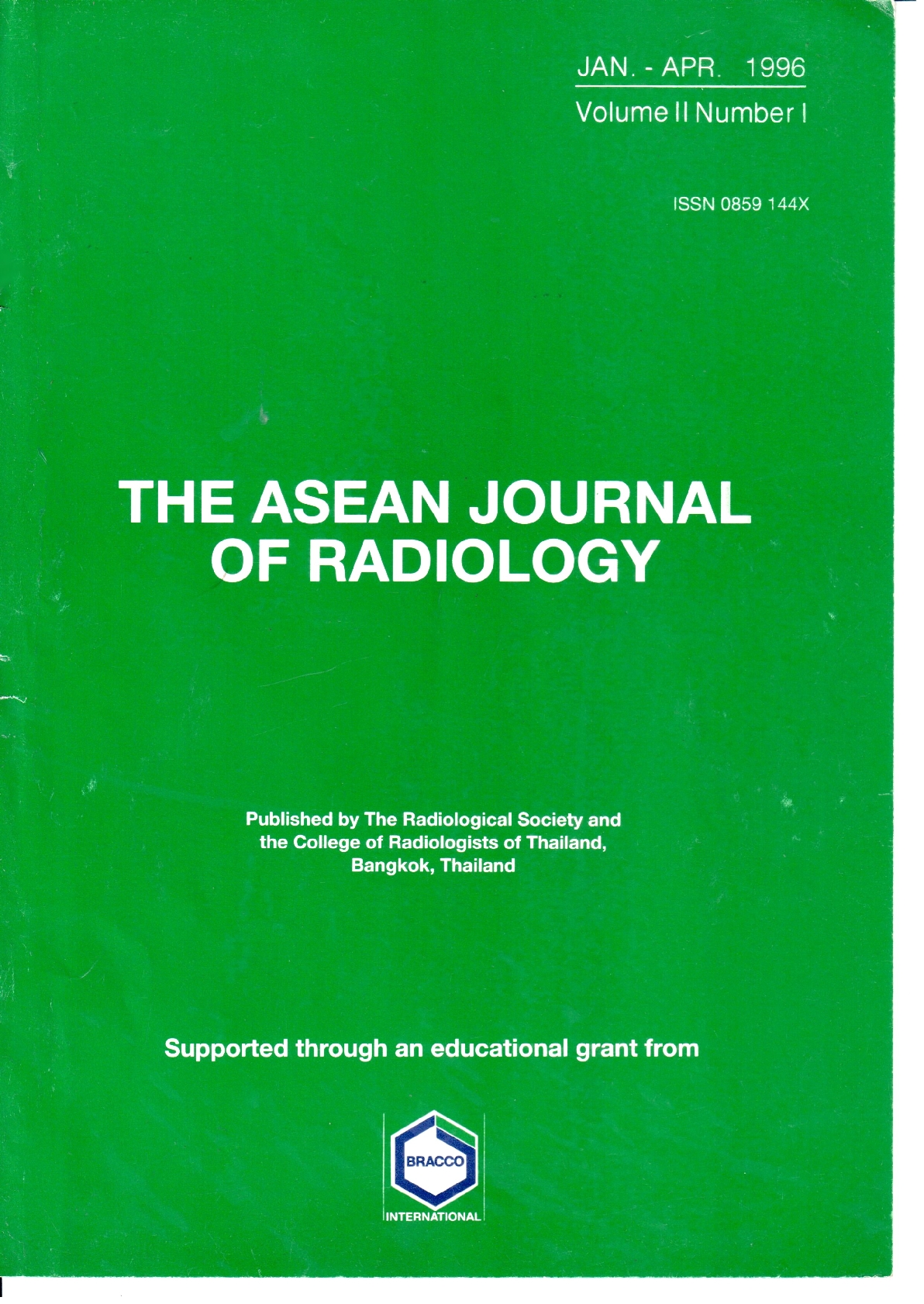 Downloads
How to Cite
1.
PEKANAN P, KUMPOLPUNTH S, TAPANEEYAKORN J, SAPTHOESATAYA A. NASAL AND PERINASAL FIBRO-OSSEOUS LESIONS. ASEAN J Radiol [Internet]. 2023Mar.31 [cited 2023Oct.5];2(1):67-72. Available from: https://asean-journal-radiology.org/index.php/ajr/article/view/294
License
Copyright (c) 2023 The ASEAN Journal of Radiology
This work is licensed under a Creative Commons Attribution-NonCommercial-NoDerivatives 4.0 International License.
Disclosure Forms and Copyright Agreements
All authors listed on the manuscript must complete both the electronic copyright agreement. (in the case of acceptance)