Color Doppler Ultrasound and MRI Findings of Vein of Galen Malformation in a Newborn, a Case Report.
Keywords:
Color Doppler ultrasound, MRI, VGAM
Abstract
The Vein of Galen aneurysmal malformation (VGAM) is a rare intracranial arteriovenous anomaly that has usually been diagnosed prenatally. We reported a near term boy, 2,140 grams body weight, with a large VGAM, who was diagnosed prenatally by color Doppler ultrasound. After birth, his APGAR scores were 2, 4, and 8, respectively. An emergency cranial ultrasound was performed promptly when his vital sign began to be stable. The image revealed a huge dilatation of the great vein of Galen, measured about 1.9 x 2.0 x 3.8 cm. in diameter, with mixed venous and arterial flow profiles. Abnormal dilatation of the right internal carotid artery, and circle of Willis were also identified and likely to be an arterial feeder to choroidal artery which directly draining into the great vein of Galen. MRI, MRA, and MRV of the brain were performed on the following day and also showed a huge aneurysmal dilatation of a median vein of prosencephalon (precursor of the great vein of Galen) and marked dilatation of falcine sinus. Torcular herophili, both transverse / sigmoid sinuses and both internal jugular veins showed abnormal dilatation on MRA and MRV. Endovascular transarterial embolization was planned to performe on this patient but his vital sign was not stable. He finally expired from severe congestive heart failure after 5 days of life.
Downloads
Download data is not yet available.
References
Dandy W.E., çExperimental hydrocephalus,é Annals Surgery, 1919;70(2)129-42.

Raybaud CASC, Strother CM, Hald JK. Aneurysms of the vein of Galen: embryonic considerations and anatomical features relating to the pathogenesis of the malformation. Neuroradiology 1989;31:109-28.

Beucher G, Fossey C, Belloy F. Richter B, Dreyfus M. Antenatal diagnosis and management of vein of Galen aneurysm: review illustrated by a case report. Journal de Gynecologie Obstetrique et Biologie de la Reproduction; 2005:34(6);613-9.

Yamashita Y, Abe T, Ohara N, et al. Successful treatment of neonatal aneurymal dilation of the vein of Galen: the role of prenatal diagnosis and trans-arterial embolization. Neuroradiology1992;34(5):457-9.

Bhattacharya J J, Thammaroj J. Vein of Galen Malformations. J Neurol Neurosurg Psychiatry 2003;74(Suppl l):i42-i44.

Lasjaunias PL, Ter Brugge K, Lopez Ibor L, et al. The role of dural anomalies in vein of Galen aneurysm: report of six cases and review of literature. AJNR Am J Neuroradiol 1987;8:185-92.

Lasjaunias PL, Garcia-Manaco R, Rodesch G, Ter Brugge K, Zerah M, Tardieu M, et.al. Vein of Galen Malformation. Endovascular management of 43 cases. Childs Nerv Syst 1991;7:360-7.

Lasjaunias PL, Hui F, Zerah M, Garcia-Manaco R, Malherbe V, Rodesch G, et al. Cerebral arteriovenous malformations in children. Management of 179 consecutive cases and review of the literature. Childs Nerv Syst1995;11:66-79.

Lasjaunias PL, Chng SM, Sachet M, Alvarez H, Rodesch G, Garcia-Manaco R. The management of vein of Galen aneurysmal malformations. Neurosurgery 59 (5 Suppl 3); 2006:S3-113,S184-94.

Stephen S, Rodesch G, Elolf E, Wiemann D, Jorch G. Vein of Galen aneurysmal malformations: an ultrasonographic incidental finding-a case report. Pediatrics 2012; doi:10.1155/2012/824284(6pages).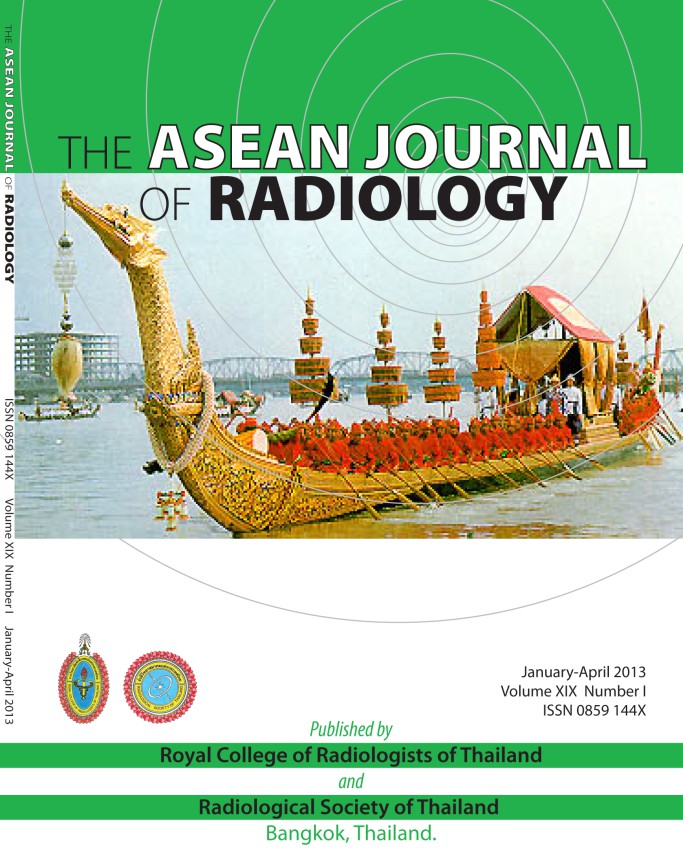 Downloads
How to Cite
1.
Srinakarin J, Thammaroj J, Kumwilaisak R, Munkong W, Jirapradittha J. Color Doppler Ultrasound and MRI Findings of Vein of Galen Malformation in a Newborn, a Case Report. ASEAN J Radiol [Internet]. 2013Apr.29 [cited 2023Oct.4];19(1):72-6. Available from: https://asean-journal-radiology.org/index.php/ajr/article/view/24
License
Disclosure Forms and Copyright Agreements
All authors listed on the manuscript must complete both the electronic copyright agreement. (in the case of acceptance)